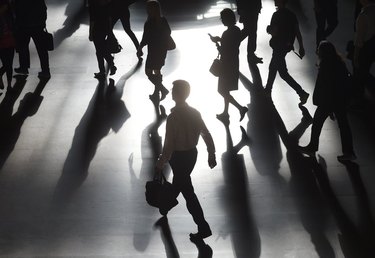 No matter how you commute, you probably have the same goal as everyone else: Show up to work on time without any major spills, disasters or accidents.
The national average for a one-way commute is 26.1 minutes, according to last year's U.S. census. That means most of us dodge potential hassles for roughly an hour each day. Although it's impossible to make a commute entirely worry-free, we can make the process smoother.
Whether you walk, take the train or arrive by car, there are things that can help streamline your routine and prepare you for the day ahead (or decompress you from the challenging day you've endured).
In collaboration with Wirecutter, a New York Times company that reviews and recommends products, here are five cheap(ish) things that'll power you through your commute.
Travel Mugs
A relative gave me a ceramic travel mug last year for Hanukkah. Thanks to the flimsy lid and leaky base, tea pools at the bottom of my car's cupholder and dribbles down my chin with every sip. Needless to say, it's not ideal.
The Zojirushi SM-SA48 Stainless Steel Mug, Wirecutter's favorite travel mug, would've been a way better option. Not only does it have fabulous heat retention (it can keep liquids toasty for up to eight hours), but it also has a vacuum-sealed, locking, leakproof lid you can operate with one hand. Think of all the money you'll save bringing your own beverages from home instead of plunking down cash for pricey drinks on the go!
Umbrella
For treks that involve battling the elements at any point, it'd be wise to invest in a high quality umbrella. You might not need it every day, but you'll be grateful to have it when a pop-up shower suddenly strikes.
Wirecutter recommends the durable Repel Easy Touch Umbrella, which comes in a variety of colors and expands at the touch of a button. Its lightweight, compact size makes it easy to tuck into a bag or glove compartment. You can score a sturdy, attractive (even whimsical!) one for under $25.
USB Battery Pack
If you zone out on your phone or tablet during your commute, you're going to need a convenient external battery charger. Wirecutter recommends the Jackery Bolt for daily usage. This versatile, compact power bank — which has two cables, both an integrated Micro-USB and lightning connector — will charge your smartphone in a flash. That means you can play Candy Crush or thumb through social media without worrying you'll eat up a ton of juice.
Earbuds
A perfect pair of earbuds will cocoon you from the clamor you'd encounter on a packed train or busy sidewalk. Wirecutter's audio experts recommend these AKG Y20U earbuds, which are comfortable to wear and wallet-friendly. The one-button universal remote and terrific mic make it perfect for catching up on calls too.
If you're interested in going wire-free — perfect for those looking to reduce snags and pulls — the Skullcandy Ink'd Bluetooth is the top pick for bluetooth headphones under $50.
Chill Time
Instead of spacing out or staring at the wall as you hustle to and from work, plug into Headspace, a free meditation app. It's Wirecutter's favorite for beginners and pros alike. This popular app offers hundreds of themed mindful meditation sessions in a variety of running lengths. The app even offers a series specifically tailored to commuters, though it requires a paid subscription to unlock that particular content (along with many others sessions).
Mindfulness meditation exercises won't make your commute go quicker, but they will take your stress level down a few notches when faced with delays, snarls or disruptions.
© 2018 THE NEW YORK TIMES.