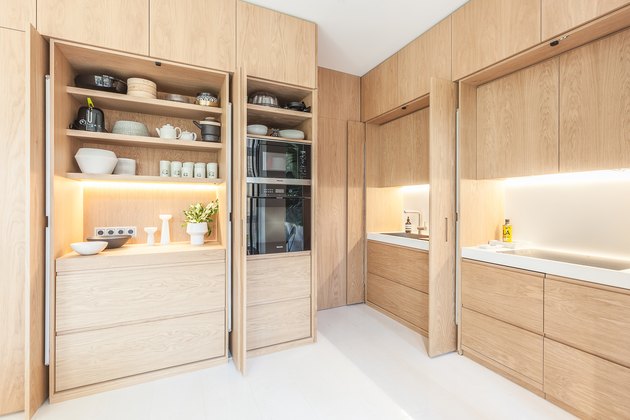 Last June, Barcelona Design Week 2018 was abuzz with art exhibitions, lectures, and events that centered on the modern excellence of the architecture and design. Among the displays of architectural innovation: a Barcelona apartment, remodeled by Spanish-German architectural firm YLAB Arquitectos. The project, which was open to the public, was a remodel of a dark six-room apartment in Barcelona's picturesque Vila de Gràcia district. The original design was a mess of partitions, so YLAB opted to change the structure, opening it up to connect with an inner courtyard.
The new L-shaped layout, measuring 960-square-feet, consists of various zones that allow for maximum flexibility. For instance, a kitchen-dining area can be transformed into a washing zone, a breakfast zone, or a wine zone (oh the luxury) depending on how the cabinets are used.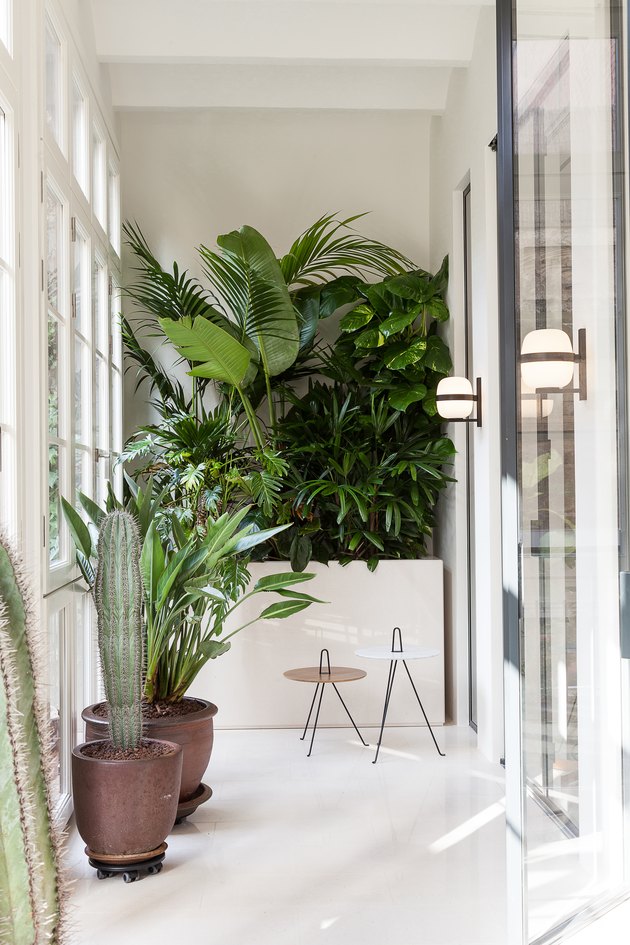 1 of 9
Living Room
Throughout the apartment, technology maximizes function. Natural sandstone planters conceal Gardena Smart watering technology, which helps keep plants healthy — especially for apartment living. Lights are controlled by a master panel.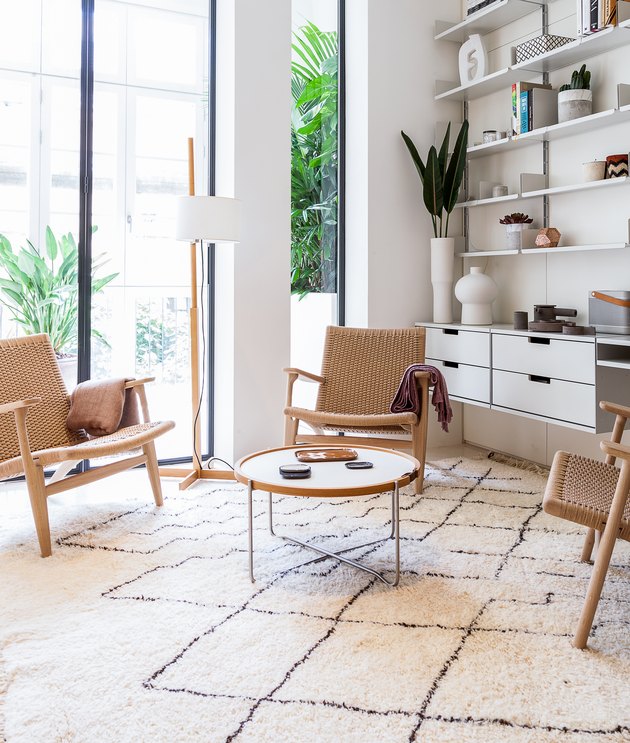 3 of 9
Living Room
A Wegner tray table functions as the centerpiece coffee table in the living room. Floor-to-ceiling windows flood the space with light.
4 of 9
Living Room
Creating flow in an awkward layout can be tough, but light colors, minimalist touches, and tons of light from the wall of windows allowed the team to create a space that feels natural. The floors, made of natural limestone protected with a sealant, also add to the minimalist appeal.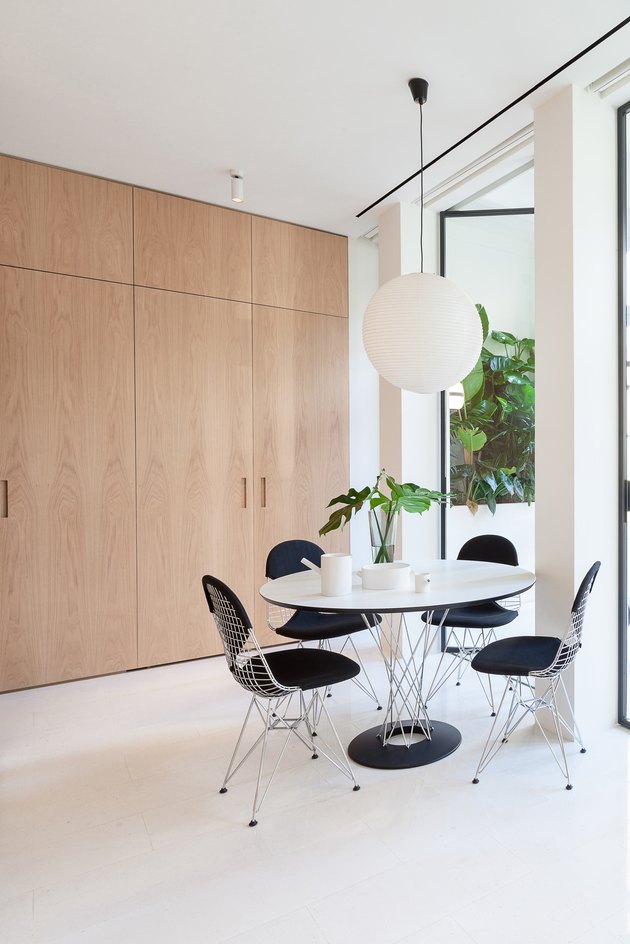 5 of 9
Dining Room
Automatic screens from Silent Gliss cover the windows with the touch of a button. A circular dining table is surrounded by matching chairs.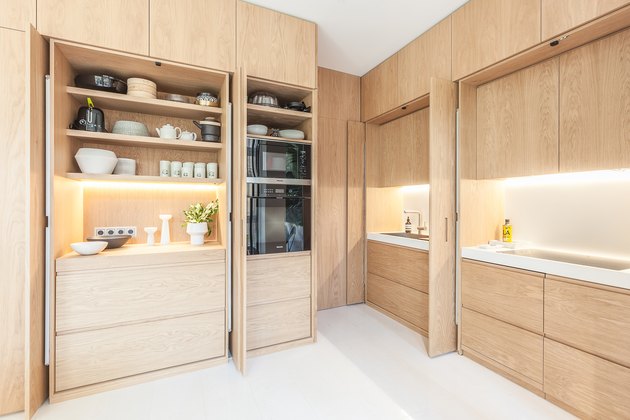 6 of 9
Kitchen
The small kitchen is a lesson in compact design: The oak built-ins use every single inch for storage; certain areas can be closed up to create a streamlined effect.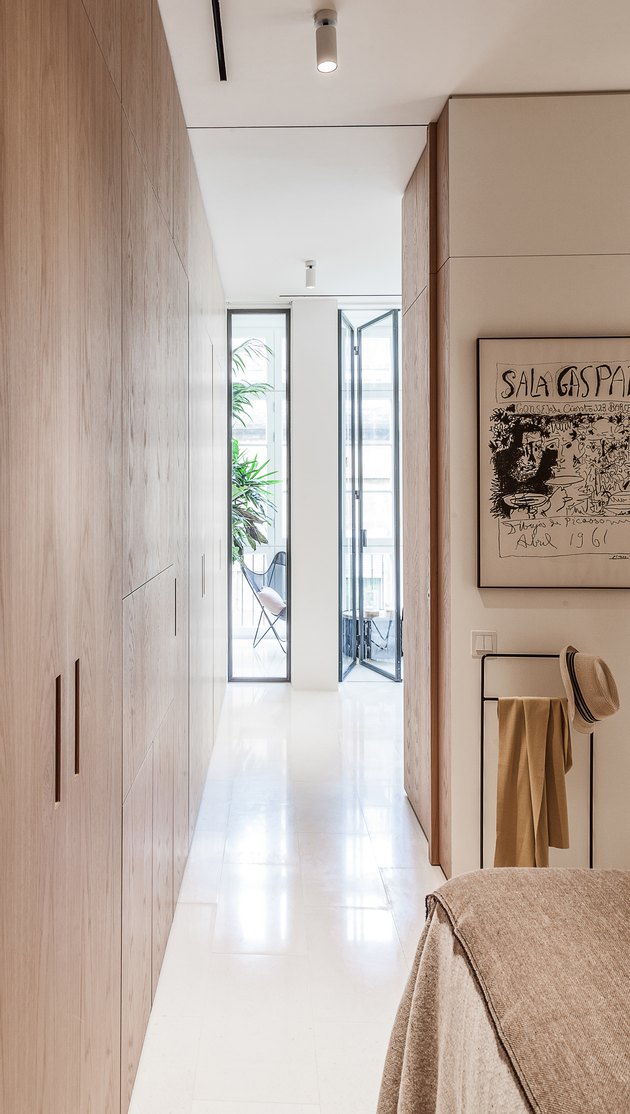 7 of 9
Bedroom
Custom windows open up the once-dark space to create a vertical theme, which, along with the custom cabinetry, makes the apartment feel taller.
8 of 9
Bedroom
In the bedroom suite, natural woods were used to build complex cabinetry that integrates tables, dressers, and shelving space. The bedroom's private bathroom can be alternatively accessed through a second door, allowing it to be used as a guest bathroom if needed.
9 of 9
Home Office
Floor-to-ceiling cabinetry in the office space opens up to offer a desk whenever needed.
---
After interning at Dwell magazine in San Francisco, Kate began writing about arts, design and culture for other national publications. She is based in Los Angeles and San Francisco.
View Work