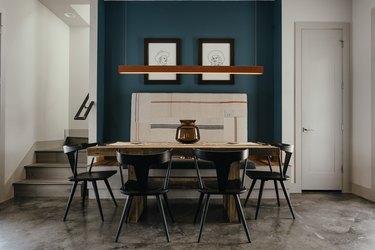 When a couple who frequently traveled to Austin for business decided to ditch hotel living for a more permanent place to hang their hats, they knew they'd need help. Since they had a permanent residence elsewhere, they were coming into their new east Austin home with only clothing and computers. Grace Hall and Chris McCray of local design firm McCray & Co. stepped in to help turn the house into a home. "They were newlyweds, and they hadn't spent a lot of time investing in their home or finding out what they each liked and disliked," says Hall. "And since they were new to town, we wanted to create a space that introduced them and their guests to the Austin vibe."
Hall and McCray personalized the newly constructed home with built-in furniture and used a neutral palette with colorful accents and eye-catching art. They made sure to include spaces for the couple to entertain and host their large, out-of-town family. The designers brought in plenty of pieces from Austin makers and artists, which gave the couple a crash course on what their creative new city has to offer. The end result is cool but grown-up — the perfect combo for the couple as they begin married life. "Recently, they let us know that they're considering making this their primary residence," says Hall. "So we feel like we've accomplished what we'd set out to do!"
---
Elizabeth Stamp is a freelance writer in Los Angeles. Her work has appeared in Architectural Digest, Elle Decor, and CNN Style.