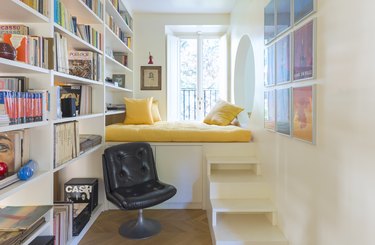 Rome may be a city steeped in history, but architects Martino Fraschetti, Vicenzo Tattolo, and Maria Clara Ghia of Studio Strato weren't afraid to embrace the now during an apartment overhaul in the city's center. The team wanted to restore some of the historic details that had been mangled in previous renovations and create a home that was more suitable for the clients' lifestyle. "This was not just a mere restoration but also a chance to build something more fitting to their concept of living," says Tattolo.
The clients specifically requested a quiet area for reading, which led to the apartment's most unique element: a large porthole between the living room and the bookcase-lined space. The circular opening is also a nod to the couple's profession (they work in film). "It perfectly frames the cozy space designed for reading, listening to music and watching movies, just like a camera lens," Tattolo adds. Natural materials and a verdant color palette connect the apartment with the park outside, creating a relaxed urban retreat. "It was a fortunate experiment," says Tattolo. "One of those lucky moments in which client's wishes and tastes completely matched with designer's choices."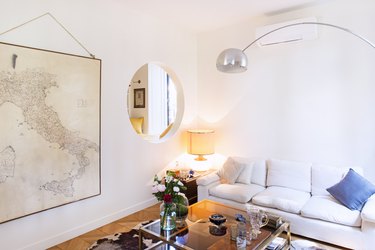 Centuries of Italian design are captured in the living room, where a vintage map is displayed alongside a 1960s-style floor lamp. A brass and glass coffee table sits atop a hide rug.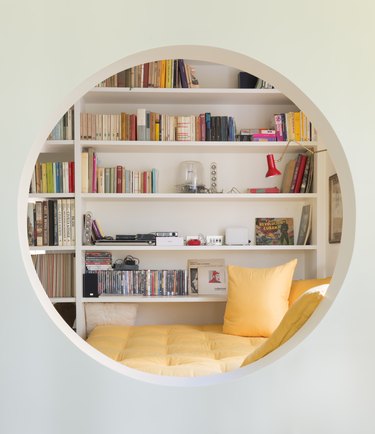 The reading nook is framed by the living room's circular portal. Having a quiet place to read was on the list of requests from the clients. The sunny space was outfitted with custom bookcases and a window seat with built-in storage.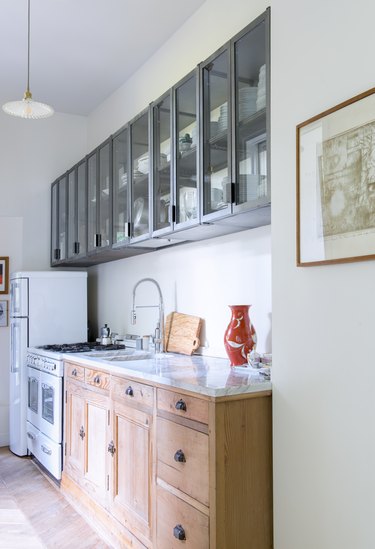 The apartment's parquet floors continue into the kitchen, where the lower wooden cabinets are topped with Carrara marble. The metal and glass upper cabinets add an industrial vibe.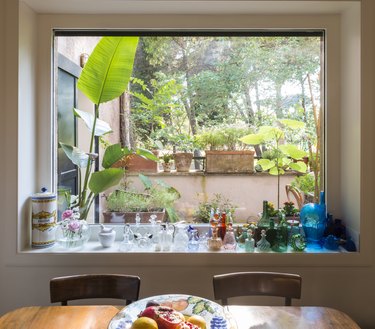 A rainbow of glassware is displayed in the window of the dining area, which is furnished with vintage table and chairs.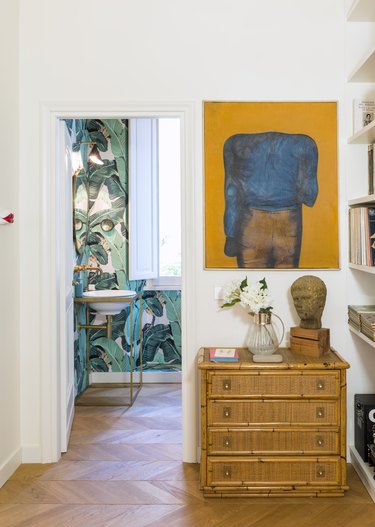 A midcentury bamboo and rattan chest of drawers is topped with an artful display in the bedroom.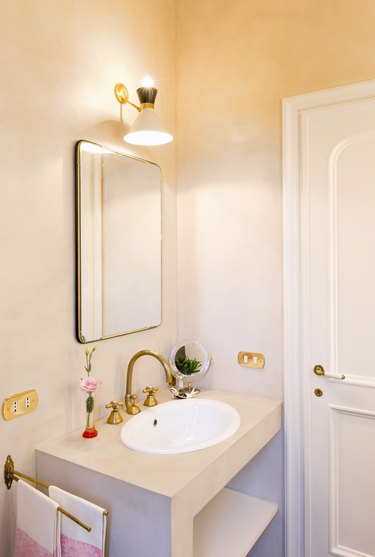 Brass accents, including the fixtures and vintage mirror, add warmth and shine to the neutral tones of the master bathroom.
Banana leaf wallpaper gives another bathroom a jungle-like feel. A custom brass sink vanity coordinates with the mirror and fixtures.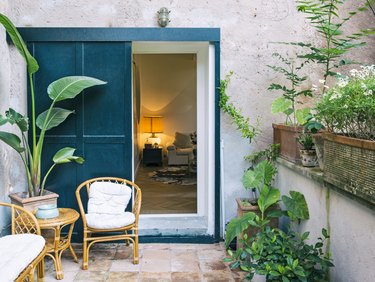 A wicker table and matching chairs are set up on the peaceful terrace. A glazed steel door separates the outdoor space from the living room.