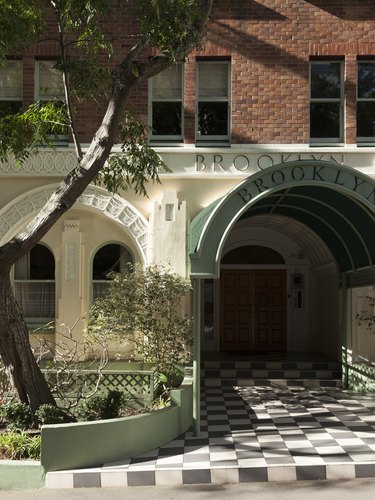 Don't let the marquee of this building fool you — it's not in New York, but rather in Auckland, New Zealand. Now that we have that squared, on to today's tour: a heritage-protected apartment circa 1929 that had functioned as a rental for two decades before being purchased by architect Ben Lloyd of Lloyd Hartley Architects Limited. At that point, the 750-square-foot space was in dire need of an upgrade. "If you were being generous, you could say 'it had potential,'" says Lloyd.
The home required extensive structural work, which was challenging, given the apartment's protected status — any changes to the layout had to be approved by a national historic heritage agency. But, Lloyd says, "Getting input early from a heritage consultant, builder, and other subcontractors allowed for the most streamlined process."
The small space is now filled with light and character and feels completely modern (while managing to respect the property's history).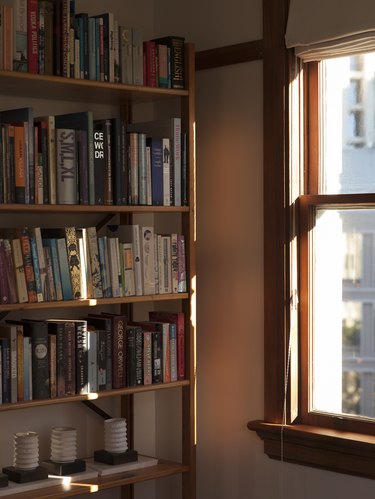 A modular shelving unit made by Lundia, a New Zealand-based brand sold in over 33 countries, houses a collection of books. In designing his own home, Lloyd opted for furniture that felt most appropriate for the space. "It's something that every architect should go through to understand that it isn't always about defaulting to the most beautiful element, but instead choosing the most appropriate element for the project," he explains.
A Silk Road rug purchased from the Kashgar markets in China accompanies a modern coffee table from Home Industry. The table, handcrafted in New Zealand, is made from brass metal and topped with glass. An original deco-era light hangs from the ceiling.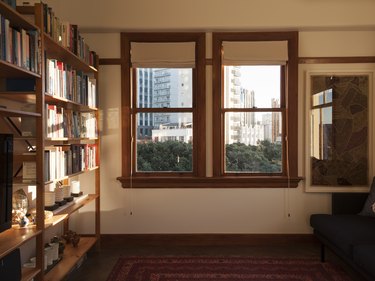 The collage on the wall is made of Indian wedding saris. The windows in the living room — and throughout the apartment — are cased in natural wood, lending warmth and definition.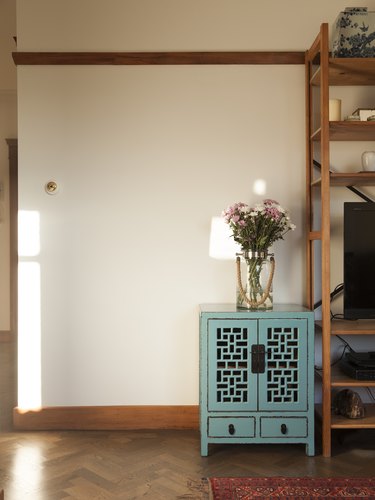 A teal blue table Lloyd found in Shanghai provides a splash of color in the living area.
Lloyd created a gallery wall out of his collection of exotic preserved insects. Walls are painted in Black White by Resene.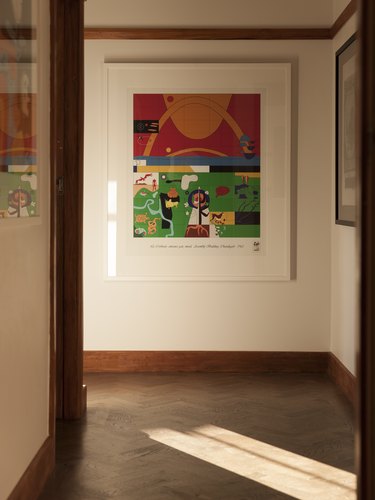 A colorful Le Corbusier print was purchased on a trip to Chandigarh, India.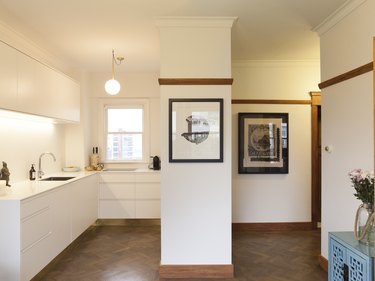 The apartment flows into an open kitchen, which features a modern, streamlined design.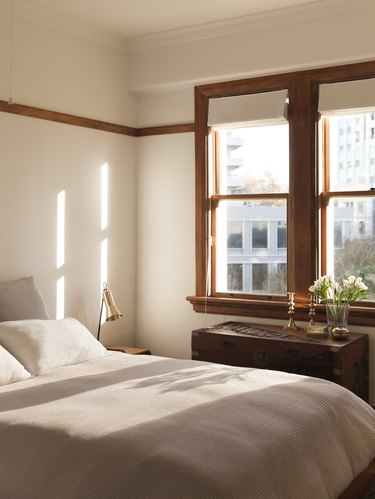 A bed, designed and built by the architect, is outfitted in bedding from Citta, a design house based in Auckland. The bedroom features a bevy of treasured family heirlooms, including a large trunk that doubles as a table.
---
After interning at Dwell magazine in San Francisco, Kate began writing about arts, design and culture for other national publications. She is based in Los Angeles and San Francisco.