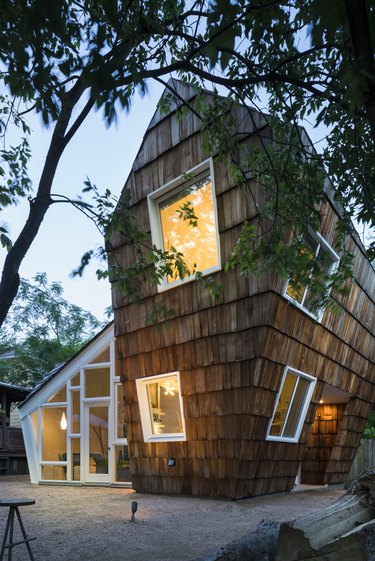 Many believe that placing limitations, rules, and guidelines on a project can promote creativity. For Studio 512's design for an Austin, Texas guesthouse, the biggest limitation on the design — a city-wide rule dictating the maximum square feet allowed — became the driving force behind the unusual architectural build.
The rule states that the footprint for any residential guesthouse has to be less than 320 square feet. In order to stay within those confines, architect and general contractor Nicole Blair drew inspiration from Dutch and Japanese designers, devising a sharply angled, asymmetrical building that follows the law, yet functions as a large one-bedroom house.
Dubbing the project "The Hive," Blair's final result is a home that expands upward and outward (without increasing square footage), providing extra room to accommodate the movements and activities of the inhabitants.