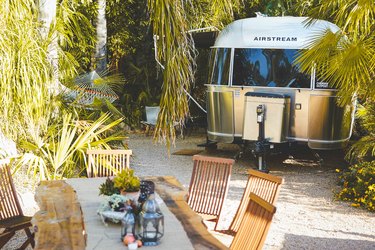 When an apparel designer and a former professional snowboarder team up on a hotel project, you know it's going to be good.
Folding their own love for adventure and travel into Caravan Outpost — a collection of 10 retrofitted Airstream trailers (and one tiny home) in Ojai, California — husband-and-wife team Brad and Shawn Steward began welcoming guests in 2016. The nomadic couple have spent time in France; Portland, Oregon; and Geneva and all those places inspired the decor, which has a rustic vintage-meets-global decor vibe. (Think: Edison bulbs, Mexican blankets, a rusty pickup truck.) "We kind of use the Outpost as a depository for all of those places," says Brad, who founded Bonfire Snowboarding, which manufactures snowboarding outerwear.
While Caravan Outpost welcomes guests from around the world, it attracts a large crew of creatives — filmmakers, writers, actors — from the L.A. area. (One guest reported that Bradley Cooper arrived at the fire pit one night and hung out with guests.)
"It's a real down home, local feel to Ojai," says Brad. "We definitely have customers come in and say this feels very bohemian and eclectic."