We may earn compensation through affiliate links in this story. Learn more about our affiliate and product review process
here
.
The Roosevelt Row Artists' District in Phoenix (RoRo) is a continuously evolving urban canvas that has witnessed a dramatic turnaround in recent years, thanks to a growing community of artists and entrepreneurs.
Juxtaposition quickly emerges as a common theme in RoRo's art and development. Decades-old bungalows face months-old mid-rises; bright colors meet the desert palette. The most intriguing contrast lies perhaps in the district's continuing struggle to blend the old and the new: Roosevelt Row has a century of history, divided into chapters that tell independent stories of a late 1800s origination, an era of business growth along the central Roosevelt Street, and a late 20th-century decline that lasted well into the Information Age.
Like many neighborhoods, its linear borders are fluid; however, RoRo can be loosely defined by 7th Avenue to the west and 16th Street to the east, with the eponymous Roosevelt Street running through the center; and to the north and south, the district is bound by Interstate 10 and Fillmore Street. The Roosevelt Neighborhood and surrounding areas experienced a decline beginning in the 1960's that was associated with plans to build a freeway across the district, which eventually resulted in the demolition of some 3,000 houses and the elimination of entire streets. Ill-conceived attempts to reshape the area as a high-rise incentive district led to decline of the neighborhood that began in the 1970s and lasted until the late 1990s. But around this time, artists began to see "opportunity where others saw blight" and started establishing studios in abandoned buildings.
Artist Lauren Lee, foreground; Lee's public art piece "Three Birds in Flight" is displayed on an apartment building in the background. Lee's previous mural, "Three Birds," was demolished as a part of the construction of the same building.
Aided by reintroduction of light rail transit, empty streets have turned into gathering spaces and historic neighborhoods have been revitalized in the past decade. Suddenly, residents and entrepreneurs along the 23-block stretch of RoRo have ample opportunity to fill niches and write their places in history; the stratification of housing prices that restricts access to neighborhoods in other cities has not yet applied across downtown Phoenix. As a result, a Wild-West-style creative and entrepreneurial ethos has gradually seeped in. A quick look at sites like Zillow or Redfin indicates that housing prices have rebounded since the financial crisis, as a search for a 2-bedroom unit yields an asking-price range between around $250,000-$420,000; a recent sale of a two-bedroom condo in a central RoRo location fetched $275,000.
Roosevelt Row, in its modern revival, is emblematic of the power of creatives in building nationally recognized culture through the arts. Most famously, it is home to monthly First Fridays, now one of the largest self-guided art walks in the country. The artistic community is known to be tight-knit: when an idea strikes, it can seemingly become a part of every Roosevelt Row conversation—after a jazz concert at The Nash, between audiophiles swapping vinyl at Revolver Records, over a Five Spot at Matt's Big Breakfast (you can take it from Food Network's Guy Fieri)—or after a sandwich and coffee at Welcome Diner. A mix of entrepreneurial and artistic thought has yielded new models for using commercial space like Palabra, where a hair salon laid the foundation for sharing commercial space with an art gallery and a design-focused cafe; and Rise, a coffee house and eatery that curates live events featuring local and underground artists. "The small businesses that are thriving in [RoRo] are backed by people that really care about the district," says Derrick Pacheco, owner of HoodRide Bicycles. "They're stewards for the travelers and for the people that are new to the area. They are ambassadors of the arts district and that has always played a key role, I think, in the development of the area."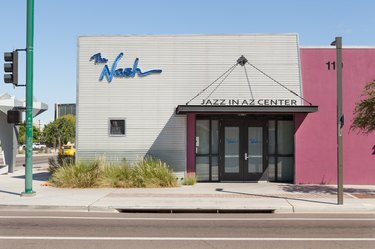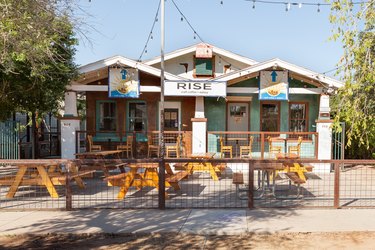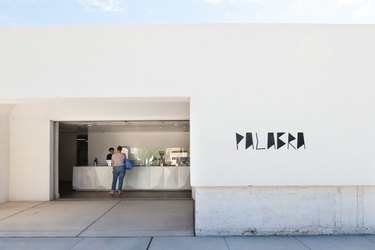 Professional artist Lauren Lee moved to Roosevelt Row in the mid-2000s, when the buzz in the art scene was only beginning to build to its current intensity. Around this time, much of the First Friday tradition comprised informal gatherings in apartment-based galleries and small shops along Roosevelt Street. As the art scene grew, Lee was selected to beautify the graffitied wall of GreenHAUS, a local art gallery and boutique, with new artwork. Lee's "Three Birds" mural went up in 2012, as selfie culture was just gathering steam, and the mural quickly became an accessible backdrop for photos right in the heart of RoRo. Locals and tourists started tagging not only Lee's mural, but the arts district on social media. The birds became a Roosevelt Row symbol and helped launch Lee's career as a full-time muralist and fine artist. "I knew that [Three Birds] would change my life because it was so prominent," Lee says. "It absolutely changed my life 100 times over."
By this time, RoRo's development as a localist, artistic enclave was in full bloom, so much so that a resurgence in local property values was also well underway. Three years after the original "Three Birds" mural went up, GreenHAUS was torn down—along with Lee's mural and an indoor one by iconic artist Ted DeGrazia—to make way for iLuminate 290, a luxury apartment complex developed by Baron Properties. Witnessing iLuminate 290's construction from the art studio and gallery he runs next door, photographer and artist Wayne Rainey turned his frustration into inspiration: his photo of the demolition site became "Illuminated," a large-scale nighttime capture photograph commenting on the toll of development on an arts district that Rainey exhibited at the Heard Museum in downtown Phoenix.
Rainey, a third generation native of Phoenix, is a longtime supporter of the Phoenix art scene whose efforts date back at least to 1999, when he established Hogla's, a live/work/exhibit space for a steady stream of young artists. Although Holga's eventually closed, Rainey has continued with new projects like MonOrchid, a multi-use artistic facility that serves not only as a video and photography studio, but also as a gallery, event venue, and coworking space. As Rainey said, "I found that the best way for me to feed my own soul was to create the place the I wanted to be in." Rainey is also behind Ro2, an upcoming mid-rise development also designed as a mixed-use space that includes Knipe Village, an affordable place for artists and entrepreneurs to live, work, and showcase their art. Knipe Village is especially noteworthy for its commitment to restoring the 109-year-old Knipe House and maintaining the community garden Roosevelt Growhouse.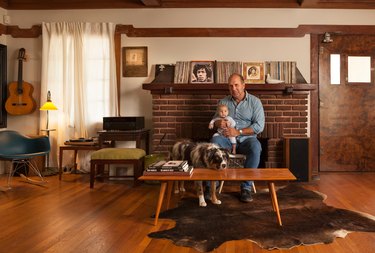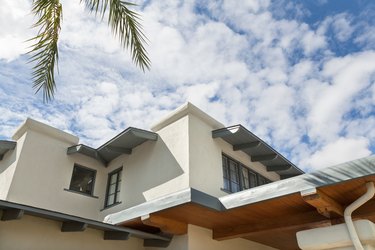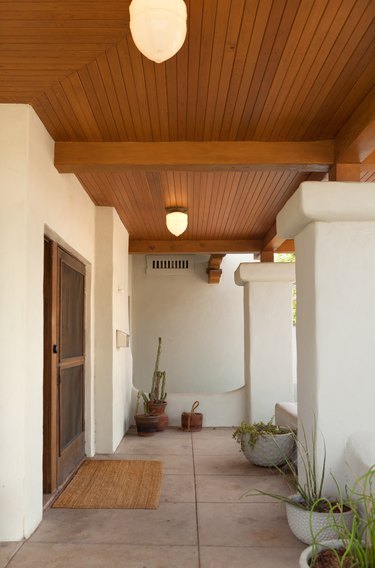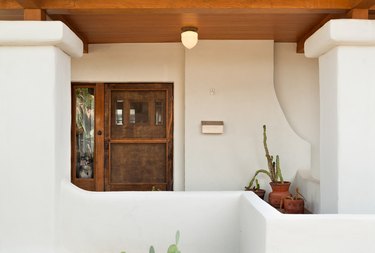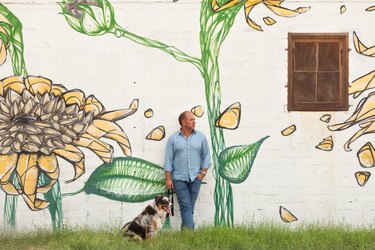 Wayne Rainey at his historic home in Roosevelt Row
Like Rainey, architect and artist Steve Helffrich has witnessed changes along Roosevelt Row for decades. He calls these developments a "changing of the wealth." Corporations and students have moved in. The artists have moved out. Helffrich is now on the outskirts of Roosevelt Row, contributing to the creative character of downtown from a distance through The Hive, an art space just north of the I-10. "It just ebbs and flows," Helffrich says. "At one point, there were maybe 100 art spaces functioning in the downtown. You can count how many there are now in one hand. It definitely has changed, and it's going so slow you don't really know."
Helffrich says the results of current developments may not manifest for several years, so residents like him are being proactive. They're seeking solutions for complex issues—walkability, adaptive reuse and more—that all feed into the preservation of art and small businesses along Roosevelt Row and all of downtown Phoenix.
Derrick Pacheco, entrepreneur, artist, and founder of HoodRide Bicycles.

HoodRide Bicycles founder Derrick Pacheco has experienced the need to be proactive first-hand. When he first opened his shop in the arts district, it was out of necessity—no other bike shops existed within a five-mile radius. Today, there are at least 10, not including free services offered to students by Arizona State University. "What's going on in Phoenix is definitely not unique, but what saddens me is we had a unique position as a community to ward off gentrification a little bit harder than we did, if we did at all," Pacheco said. "We as a community focused too much time and effort on making and promoting art, and less on building a foundation so we can keep making and building art in our own community."
As developers alter the local landscape, Pacheco has found opportunity in increased tourism. Through several successful Airbnb properties in the Roosevelt district, he, like many artists, is able to support himself by monetizing long-standing DIY culture and shared space. Pacheco's unique properties— including repurposed airplanes, shipping containers, and a school bus—provide guests with a reflection of local artist culture by using art to build community, rather than as accoutrement to new condos or sports venues. In a sense, "they are part of a fight against a monolithic Roosevelt Row."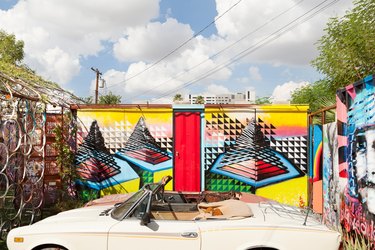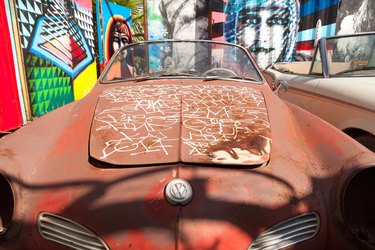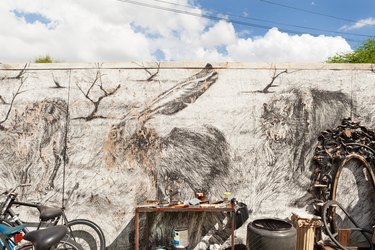 While developments have not stopped, the perseverance of passionate Roosevelt Row residents has not been in vain. Developers have started to take note of the importance of working with artists. When GreenHAUS was torn down, leading to a symbolic funeral for Roosevelt Row, Lee approached iLuminate 290's developers and proposed a new iteration of her "Three Birds" mural. "Three Birds in Flight" is now proudly displayed on the side of the apartment complex, and is one of the first privately negotiated public art pieces on Roosevelt Row. "I think they realized as soon as they were onsite in the arts district that [art] is the currency of that space," Lee says. "You don't want to be a sore thumb. You bring in art, which is why people are going to that space in the first place."
More recently, following a festival that brought 51 new murals to Phoenix, a city meeting that gathered over 200 mural supporters led to two significant results: no mural regulations would be created and no current murals would be affected by any future regulations. This commitment to a colorful RoRo and greater Phoenix grants artists the responsibility of showcasing their own culture and contrasts laws in other cities that require design fees, permits and more. "I'm always very aware of how [her public art] is going to impact the community, what they're going to think it means," Lee says. "I run through all that in my head. It's a big deal." Lee says the next step is to provide local artists with more opportunities to work their way up, rather than outsourcing talent for large mural projects.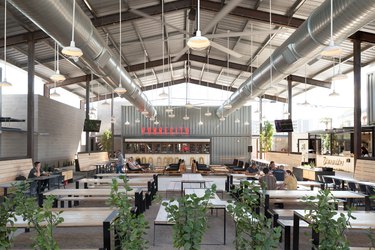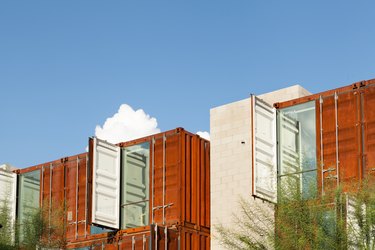 As the arts district changes, so do many local business on the surroundings of Roosevelt Street. The Churchill, a marketplace that follows a trend of shipping container developments (in, for example, Vegas and Atlanta) along Roosevelt Row, opened in September 2018 as a community hub for 10 homegrown restaurants and shops. The Oscar is an apartment building made from reclaimed shipping containers that blurs the line between short- and long-term rental. At the same time, adaptive reuse space and food hall DeSoto Central Market closed down recently, only having opened in 2015. Unable to secure its residency on Fifth Street, longstanding coffeehouse Jobot relocated in 2017 across the street from the iLuminate 290 development. Change is occurring, but this change means artists are returning in a new way. "You shift," says Lee. "You pivot. It's like dance. It's a different song, so you have to dance different."
Roosevelt Row's history may be marked by stark decline and resurgence, but the artists of Roosevelt Row are reclaiming their places. They're persistent. They're hardy. And they're storytellers. "We're very liquid as artists," Pacheco says. "We're very adaptable. We will watch the whole thing burn down from the sidelines, and we'll still be making art around that. We'll be illustrating our inner pains and inner struggles. We'll be telling our story no matter what."