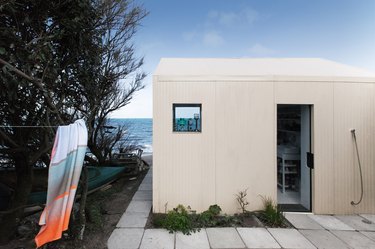 When refurbishing a 1950s concrete fishing shack on the coast of Normandy, France, architects Yves Pasquet, Cyril Gauthier, and Guillaume Aubry of Paris-based firm Freaks Architecture took inspiration from an unlikely source: Henry David Thoreau. The home, which is nicknamed The Viking Seaside Summer House (because the area is historically known for its Viking invaders), is the exact dimension of Thoreau's cabin at Walden Pond, 10-feet-by-15-feet. Because of French construction regulations, the space had to stay small. The architects weren't able to change the size or shape of the home, so they worked to optimize what was there.
The exterior is now clad in champagne-colored galvanized metal, which contrasts with the rocky coastline. Two large sliding windows brighten up the interior and offer views of the sand and surf. They kept the interiors minimal (although not quite as minimal as Thoreau) with an open kitchen and lounge area. A simple ladder leads to a mezzanine sleeping area. The finished space is serene and focused on the natural beauty of the setting.
---
Elizabeth Stamp is a freelance writer in Los Angeles. Her work has appeared in Architectural Digest, Elle Decor, and CNN Style.
View Work