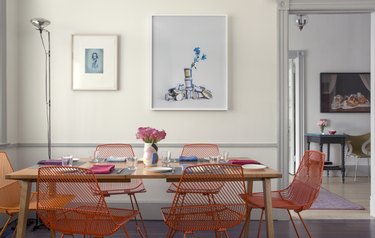 What do you get when two painters team up on a hotel project in New York's Hudson Valley? Colorful works of art. A purple staircase. Tomato-red dining chairs.
"It's always been a hotel and a restaurant in some capacity," says Janett Pabon, Hotel Tivoli's general manager. The 1910 building, located in Tivoli, New York, was bought by Helen and Brice Marden, who fell in love with the village (population around 1,000) in 2001 and have spent time there ever since. The 10-room hotel (plus one suite) welcomed its first guests in 2014.
"The Mardens wanted to help protect it from growing dark," says Pabon. "They wanted something bright, light, clean, playful, and fresh. They basically kept the same footprint, just brightened up everything." To that end, an exclusive paint color called Brice Gray — created by co-owner Brice Madden — was used on Tivoli's walls.
"Some of the old pieces of furniture were kept, but brightened up with color," says Pabon — coats of glossy paint gave the antiques left behind a new lease on life. The rest of the furnishings come from varied sources — the couple's personal collection, local shops, as well as big-name places like Design Within Reach.