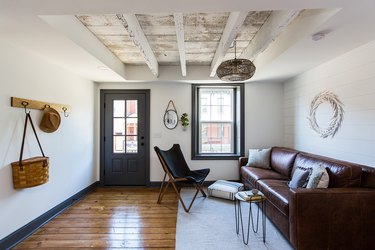 At first glance, this 1880s brick townhouse in Lancaster, Pennsylvania looked dark and dated. But Kate Hostetter of Brentwood Builders saw its full potential — starting with the back yard. "When we initially walked through the home it was somewhat of a disaster, but the backyard was such a gem," Hostetter says. "I immediately drew inspiration from that area of the house and wanted to carry that feeling through the interior." To make the 1,000-square-foot home feel bigger, Hostetter and the rest of the team, including her husband, Brent, worked with fellow local firm Renovations by Dienner to optimize the layout by removing walls and changing the orientation of the staircase. The first floor ceiling beams were exposed and painted white to make the space feel less claustrophobic.
The second floor was also overhauled. The ceiling of the master bedroom was raised to the roofline and a brick wall was exposed and painted. They also added a second full bath upstairs so each bedroom would have its own bathroom. The finished project bears little resemblance to the old house — the sign of a successful gut renovation.
---
Elizabeth Stamp is a freelance writer in Los Angeles. Her work has appeared in Architectural Digest, Elle Decor, and CNN Style.
View Work