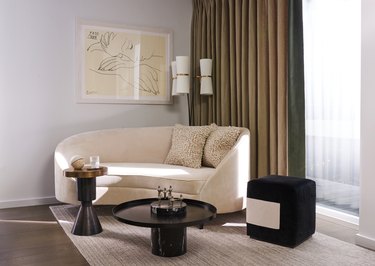 An apartment located on the 16th floor of a new building in Camden — the London neighborhood famous for incubating the punk rock scene — presented new challenges for design firm No.12 Studio. The 800-square-foot space had a restricting layout, and the team wanted to give each area its own vibe. To do this, they took a "sun survey," which determines natural light patterns throughout a home.
"The master [bedroom] is on the west side of the property so it receives the lovely afternoon sun," explained Emma Rayner, the company's co-founder and creative director. "This is where we created more of a dramatic look," Rayner said. A neutral framework serves to highlight the intentionality of color choice and furniture placement, resulting in a home that makes the most of small-space living.
---
After interning at Dwell magazine in San Francisco, Kate began writing about arts, design and culture for other national publications. She is based in Los Angeles and San Francisco.