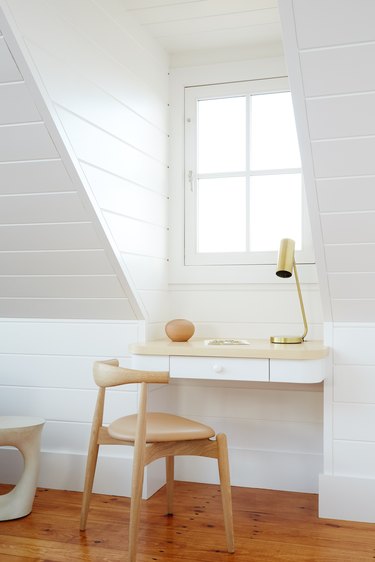 When designing a summer house on Martha's Vineyard, Karie Reinertson and Rob Maddox of the Asheville, North Carolina–based interior design firm Shelter wanted to give a nod to the area's traditional style — but without creating a traditional home. "Because this home is in New England, the world of weathered wood and saltbox houses, we wanted to respect the vernacular of the area but add a more playful and contemporary take on it," says Reinertson. For the designers, who collaborated with Maryann Thompson Architects on the project, the solution was a mix of natural materials, like handwoven fabrics, locally sourced wood, and a color palette that references the surrounding landscape (think deep greens, bright blues, and dusty pinks).
The clients also wanted a home that was built for entertaining large groups. The living room, dining area, and kitchen flow together, creating a flexible space for gatherings. Since summer residences tend to attract plenty of overnight guests, Reinertson and Maddox also took particular care in designing the bedrooms, giving each a unique identity. The entire home is filled with custom pieces and collaborations with artisans, creating a one-of-a-kind twist on coastal style.
---
Elizabeth Stamp is a freelance writer in Los Angeles. Her work has appeared in Architectural Digest, Elle Decor, and CNN Style.