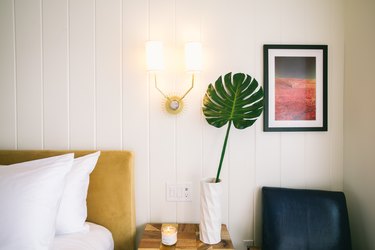 In a world where hidden gems are harder and harder to find, discovering the '50s-era roadside motel that would be reborn as the Skyview hotel was a rare stroke of luck for husband-and-wife team Kimberly Walker and Mike Kyle of the Nomada Hotel Group.
"Some friends of ours told us about it and thought, 'Oh, this is in their wheelhouse,'" says Walker, speaking of the property in Los Alamos, California. "We love taking old properties, refurbishing them, and giving them new life." It's a passion already reflected in the group's other two hospitality businesses, Granada Hotel & Bistro in San Luis Obispo and Cambria Beach Lodge in Cambria.
"We literally just fell in love with it. We put an offer on it as soon as we saw it," recalls Walker. The couple immediately began restoring the five-acre property back to its midcentury roots, but with of-the-moment updates like eclectic global finds and rustic touches. In April, they reopened Skyview, which today draws style-minded travelers to Santa Ynez wine country.
Even now, they marvel at their good fortune. "We had driven by Skyview so many times but never went up the hill," says Walker. "You just don't find properties like that anymore."