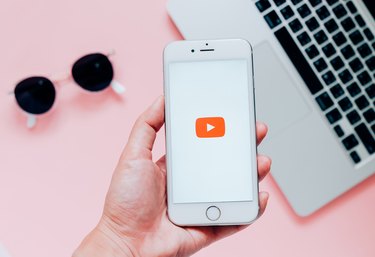 You can find home decor inspiration in all kinds of places, and though sometimes overlooked, YouTube is one of them. There are some awesome creators out there who invite you into their homes (and their clients' homes) to share some wisdom. So grab a coffee and relax while watching videos from these five interior design YouTubers we love.
Syd and Shea McGee — a husband and wife team — run their interior design studio with over 20 employees out of Salt Lake City. On their channel you'll find room makeover reveals and how-tos ranging from styling your bed to your coffee table. Their style is fresh and contemporary, incorporating a lot of clean white.
Designer and metalsmith Kate Albrecht and her husband Joey Zehr are the team behind Mr. Kate. On their channel, find home decor and how-to videos, as well as makeovers of well-known YouTubers' spaces. Plus, their "under $300 room makeover" videos are great inspiration for redecorating on a budget.
Did you know: Lowe's has a reality show on its YouTube channel called "The Weekender." The concept goes like this: DIY blogger Monica Mangin takes a weekend to spruce up real people's problem spaces in their homes.
Sharrah Stevens has gained her design knowledge from one of the best: Her mother, interior designer Rebecca Robeson of Robeson Design. On Sharrah's channel, you can watch as she designs her uber-organized L.A. apartment and shares tips about decorating on a budget in her contemporary style.
These three best friends — Bonnie Hindmarsh, Lana Taylor, and Erin Cayless — from Australia built an interior design business together called Three Birds Renovations. On this channel you'll find room renovation reveals — often in the friends' own homes — that can be described in two words: totally Instagrammable.
---
Carolin Lehmann is an Associate Editor at Hunker. She's a graduate of the Missouri School of Journalism and has previously written for HuffPost, Seventeen magazine, and a variety of local news outlets. As a studio apartment dweller, she's always on the lookout for new ways to decorate a rental on a budget.