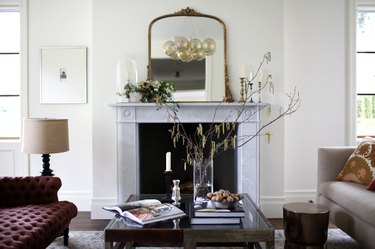 These days, it's safe to say midcentury is the reigning decor influence. But when designer Katie Hackworth went about creating her dream home in Medina, Washington, her inspiration went farther back, to classical traditions in European architecture. While the brownstone is a completely new building (created with architect Holden Withington), it feels more old world, which fits in the picturesque Seattle suburb. "[The area] has a quiet and peaceful way about it, with quaint old-school touches like a corner grocery store and post office that date back to the early 1900s," Hackworth said.
In the interior, Hackworth opted for consistency and balance — building on the classical framework Withington designed — with textures and patterns that feel traditional, but not rigid. "I wanted the structure to read timeless, but carry a modern thread throughout," Hackworth said. "I love the idea of combining new and old."
---
After interning at Dwell magazine in San Francisco, Kate began writing about arts, design and culture for other national publications. She is based in Los Angeles and San Francisco.
View Work