Good Bones: A Hidden Piece of California History in the Heart of the Pacific Palisades
At Hunker, we love a good comeback story. We've teamed up with Bona to bring you Good Bones, a series chronicling four different homes where restoration projects brought new life to something old.
It's not every day that you discover a piece of history — whose companion is housed at the Los Angeles County Museum of Art — hidden in the heart of a contemporary home. And it's rare that such a piece, once restored, becomes the key to bringing a sense of renewed harmony to the property in question.
But that's exactly what happened when Olivia Korenberg, of the Los Angeles-based interiors firm Twofold LA, walked onto a one-of-a-kind property in the Pacific Palisades neighborhood. As it turned out, the relic in question — a fireplace mantel crafted by one of California's most iconic art tile companies — turned out to be a key to restoring and harmonizing the property in a way that could only happen in California.
In May 2016, after eight months on the market, the park-like compound — which included two radically different architectural homes — was purchased by a young couple. The smaller of the structures was a historic Neutra house, which had already been masterfully restored by Marmol Radziner. But the sprawling main house still bore the eclectic aesthetic of its former owner.
"The house was very unique," explains Korenberg. "It was designed to the owners specifications." And while her clients wanted to be respectful of the home's core elements, it wasn't to their taste — and everyone agreed its ultramodern style wasn't fully aligned with the organic, midcentury aesthetic of the Neutra below.
"We thought, 'What can we do, in a more superficial way, to elevate the house and make it a little softer and more organic?'" says Korenberg. "How do we carry the aesthetic upwards, but not ignore the home's history?"
One clue to the answer came with the discovery made in the office: a large ceramic mantel with Mayan details.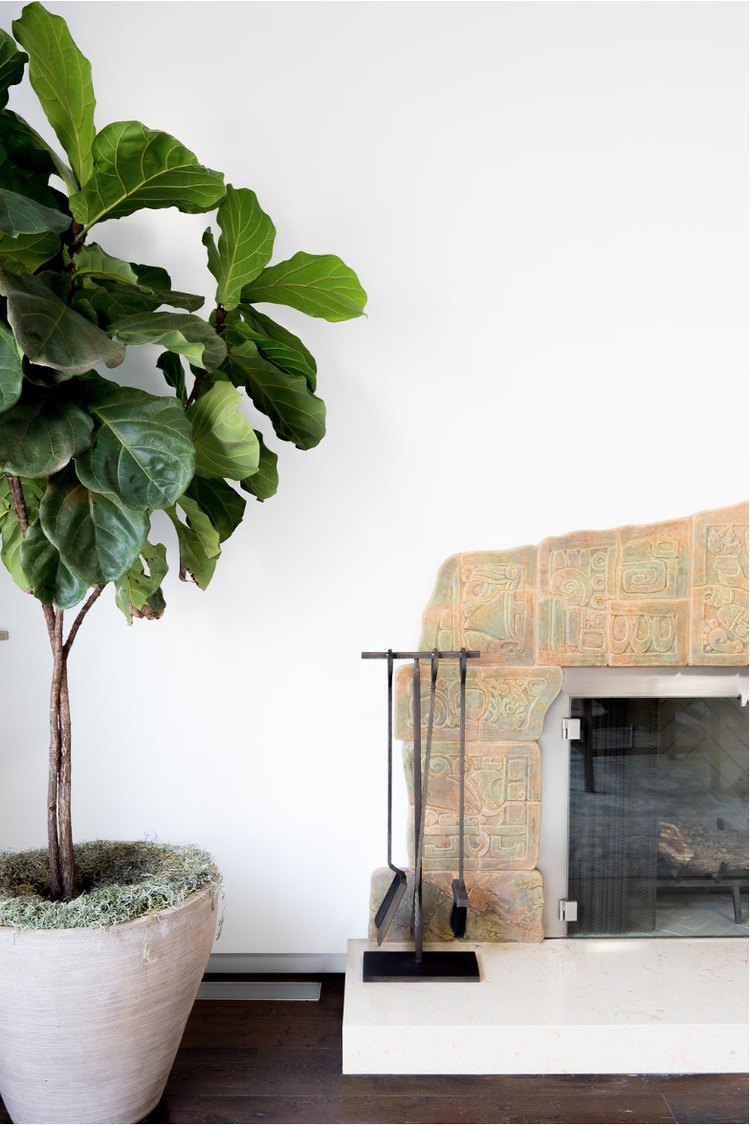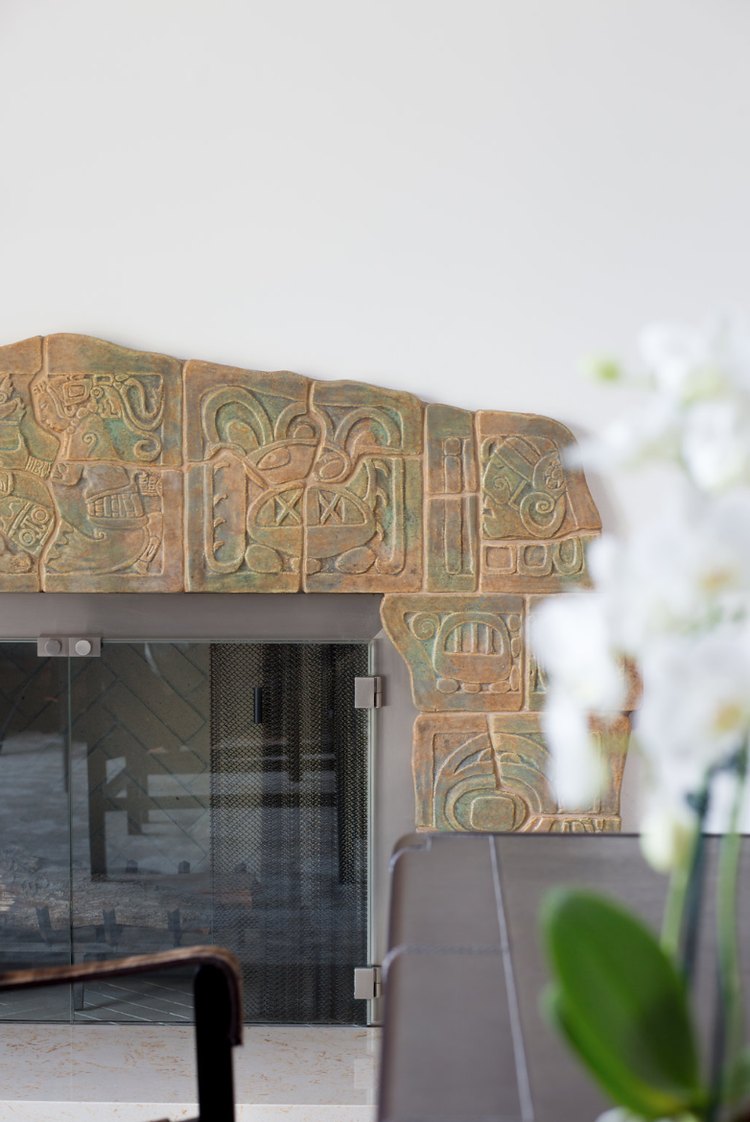 Initially, says Korenberg, they didn't grasp the historic significance of the piece.
"Truth be told, we both thought it was fake," she recalls.
Consequently, Korenberg and Pablo originally planned to keep the mantel but paint it white to streamline the look in the more minimalist office. But they and the owners began to ask questions, and the answers astonished them all.
The mantel was no replica, but original tile dating back to the heyday of California tile, and by one of the most collectible names of that era — California Clay Products Co. (CalCo). "We have a friend who works for LACMA and she recognized it." The mantel's twin is housed at the museum.
"Obviously, we were horrified when we realized we were about to paint a significant piece of art history," she says.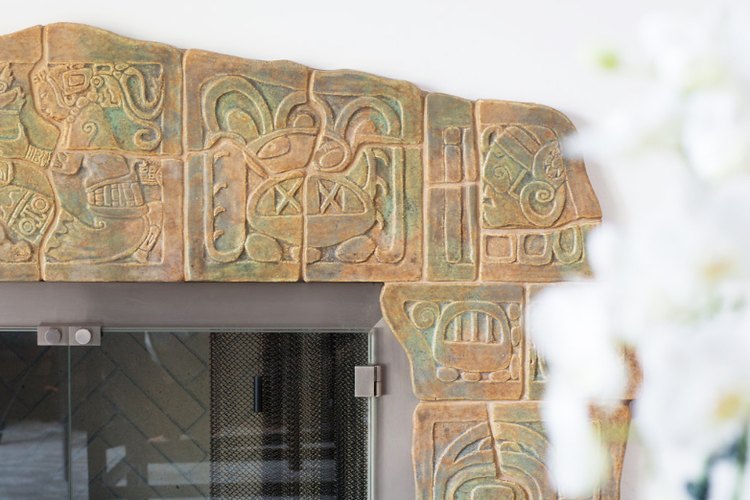 The path forward, then, was to embrace what made the home so unique — an eclectic fusion of midcentury, contemporary, and 1920s-era California revivalism.
Throughout the ensuing design process, they managed to keep the mantel center stage while creating a sleek, inviting yet professional room around it.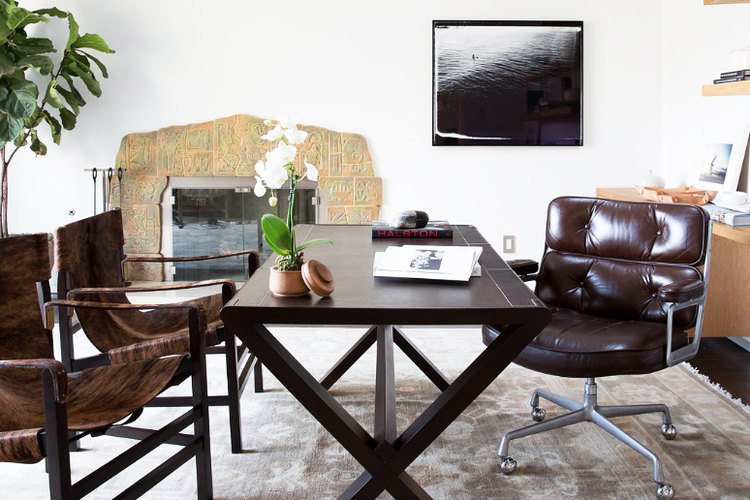 As the husband's office, it was meant to be somewhat more masculine than other areas of the house. Korenberg and Pablo ordered in several rugs from the Melrose staple Aga John, until they found one that both complemented the palette of the Mayan tiles and softened the room overall, with its dark hardwood floors and stark white walls.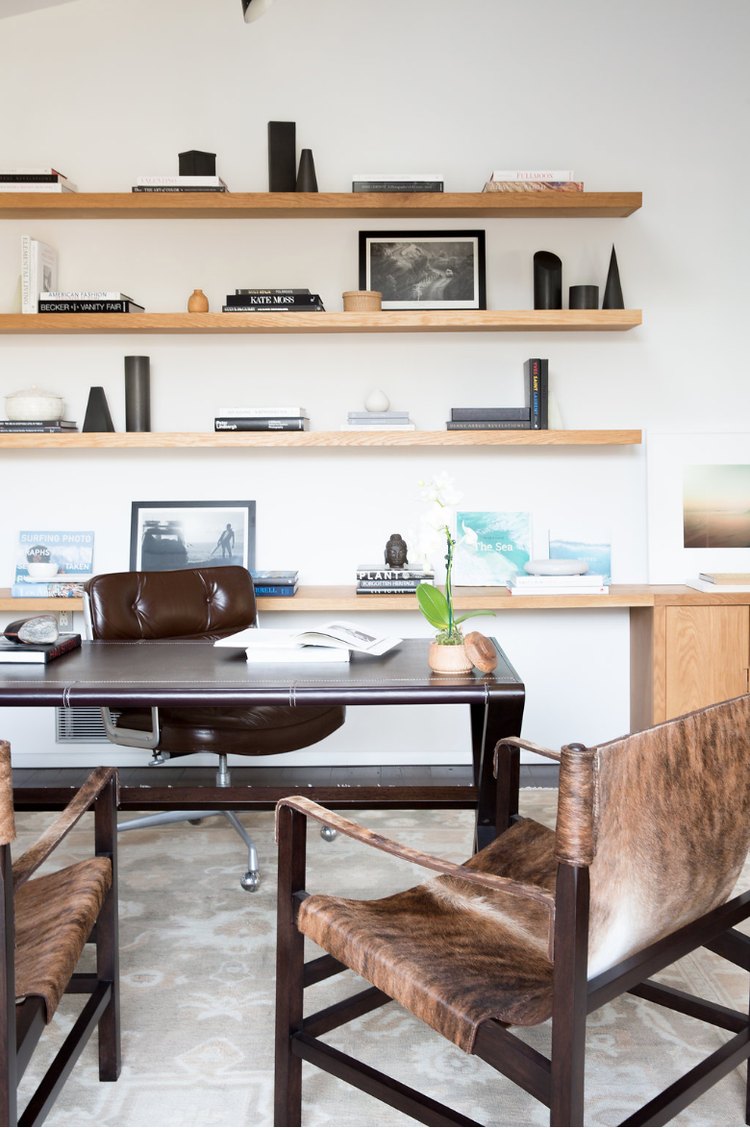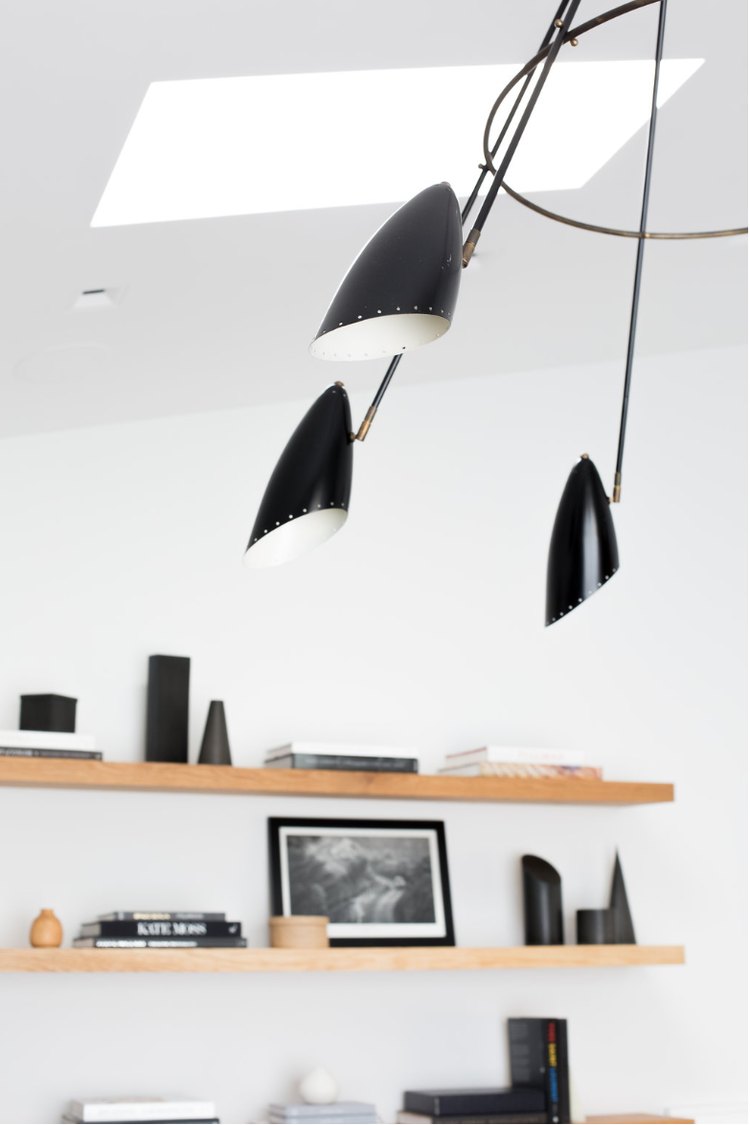 "We knew we needed to bring in something with age to it in order to reconcile the mantel with the room, knowing that we were keeping the rest of the room modern and spare," she says.
They paired the rug with custom-made cowhide desk chairs, and a rich, chocolatey Eames desk chair from midcentury specialists Merit. The vintage light fixture, circa 1960s Italy, came from Obsolete. The photograph, by Noah Abrams, looks, at first glance, like a flat screen television, but is actually an image of a surfer on undulating waves. "It was important for [the Australian couple] to represent local artists," Korenberg explains. "They wanted to celebrate the beach community that they were moving into." To that end, every piece of art in the house is from a local, California-based artist.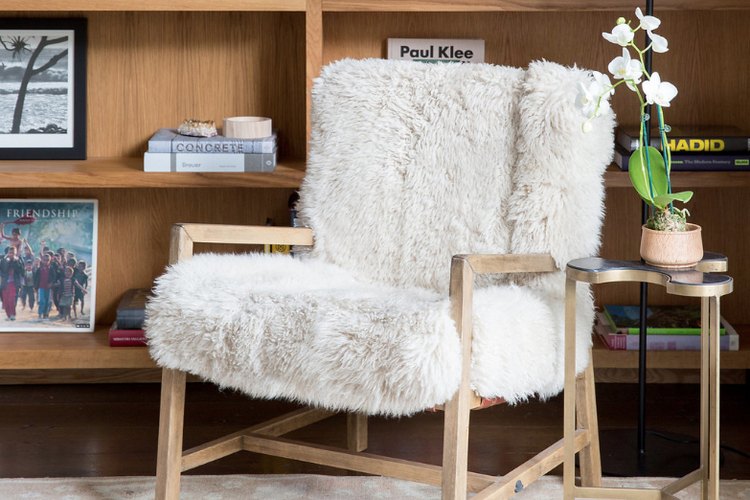 Taken as a whole, the office feels of a piece with the rest of Twofold LA's redesign, which skews Zen, organic and bohemian, yet still modern.
There's a sense of warmth that's imbued in the room," says Korenberg. "It feels like a proper study and work space but without being a distraction from the rest of the house, since it is all open plan." She adds, "Now, I think it adds such a beautiful character to the room, it's absolutely a talking point for them."
How to restore vintage tile
Few people are lucky enough to face the problem of restoring original California tile from the '30s or older. But for those who do — or who have unearthed a lucky cache of original tile to add to their home — there are things to keep in mind.
Research, research, research
Nearly four dozen tile companies sprang up in Southern California between 1910 and 1940 — and disappeared just as quickly once more modern, less decorative styles came into vogue. And older homes of a variety of styles, from Spanish Colonial to Baroque, might contain originals. If you suspect your home has original California tile, the Tile Heritage Foundation, for instance, will ID tiles at no charge.
The beauty of tile that is nearly 100 years old is its age. While certain imperfections can be fixed or masked, small chips and faded colors are really part of the charm. Original tiles from the same batch weather differently based on foot traffic, use, and light. A slightly imperfect look is also more forgiving when it comes to repairs or using replicas to finish out a look.
When in doubt, call for professional help. When Korenberg and her partner first considered painting out the mantel, before they knew its history, they knew the job was complicated enough to call in a specialty painter. And vintage tile restoration would, similarly, require specialty skills. It could very well be worth it.
"I see a lot of people wanting to rip out dated tile," says Korenberg. "Sometimes that's appropriate, but our approach is often, let's see if we can make it work. Let's try to honor the history of an environment."