Hunker may earn compensation through affiliate links in this story.
Few things are truly effortless when you're juggling a 9-month-old baby and running a business from home, but Molly Madfis, of Almost Makes Perfect, certainly makes it look that way. In her signature bright, airy, California casual style, Madfis presents a life built on a few straightforward principles: make it pretty, make it yourself, and don't be too serious along the way.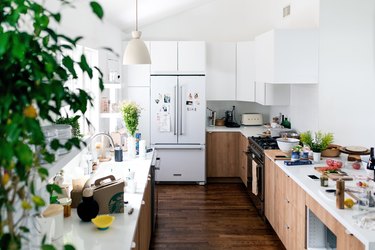 That ethos is also at the heart of her approach to entertaining, which she does less often now that baby makes six (if you count the three cats — and she does). When Madfis does have family or friends over for a meal, it's all about being chic yet savvy and efficient. Her new Miele vacuum helps her do just that, whether it's doing a quick clean while the pasta boils or getting every nook and cranny in the couch before her mother comes over.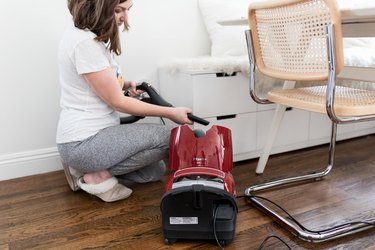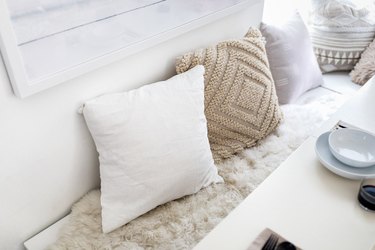 Here's what entertaining in the age of new motherhood really looks like.
A Laidback Girls' Night
"I don't see the girls a lot now that I have a baby, but we do try to get together every couple months," she says. For Madfis, the first of her friends to have a child, that looks like a Friday night in with her three best girlfriends. It has to be at home because of her son, Arlo, it has to be easy because, well, life, and it has to be chic.
On the menu is a recipe so ingrained it's second nature — a fresh, made-from-scratch tomato sauce, pasta, salad, wine and bread.
Effortless Heirloom Tomato Sauce
Chop four heirloom tomatoes and put them into a bowl
Add four cloves of garlic, minced
Season with salt and pepper
Add a pinch of red chile flakes and herbs de Provence
Add a liberal amount of olive oil
Let marinate for 90 minutes, stirring every so often
When guests arrive, cook pasta
Toss everything together and garnish with fresh basil
"It's so easy," says Madfis. "I love simple recipes especially when it's for a group."
The rest just falls into place. In the hour-and-a-half it takes for the tomato sauce to come together, she can easily set the stage.
First, it's a quick pass with her Miele vacuum to manage the Cheerios situation that inevitably spreads wide across the hardwood floor, and in and among the pillows and sheepskin of her recently re-done banquette to grab the cat hair that comes with having three felines.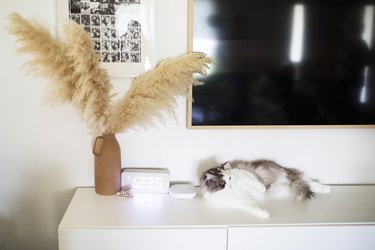 Then a quick change into something more festive, a simple black dress and pendant necklace.
The table setting itself is unfussy — chic white tableware, matte black cutlery, a mash-up of neutral textiles to warm things up, and candlelight.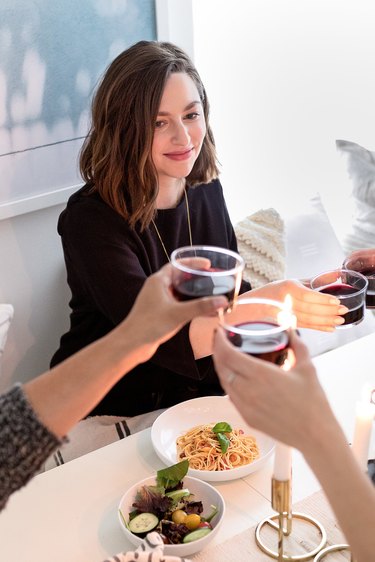 "There's a mix of high and low in my kitchen and serving wear - My cutlery is from Amazon, but then I have these really special pieces, like the knives, which are from a Paris flea market." - Molly Madifs
The overall approach echoes her take on cooking, as well — quality ingredients, creative display and keeping it simple.
A No-Cook Saturday Family Brunch
With a new baby about, it's hard not to have family over all the time. For a Saturday family brunch that feels special, but also as easy as your typical continental breakfast, Madfis curated a bagel platter.
"All you need to do is get fresh ingredients and not cook anything," she says. "It's a low-key, stress-free way to entertain and a perfect, easy brunch." Pre-slicing the tomatoes, cucumbers and onions makes it even easier, day-of.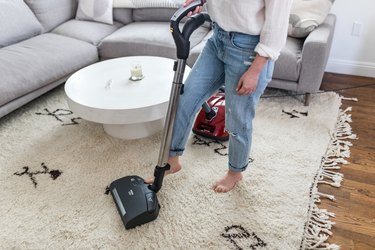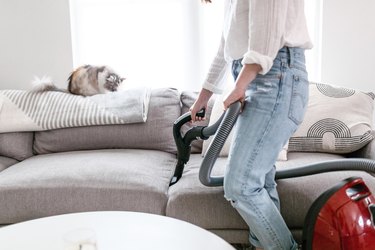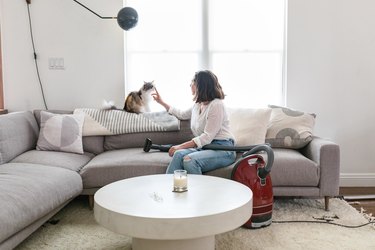 And even with a dinner party the night before, all it takes is a quick straightening, a pass with the Miele to be sure everything is clear of the couch cushions and especially the somewhat unforgiving white Moroccan rug. "Any sort of speck of anything is so visible," she says. "It's crucial to clean thoroughly."
Since it's family, Madfis chose to skip place settings and eat at the low living room table, stacking small plates and cloth napkins and serving all the fixings on her signature wood board.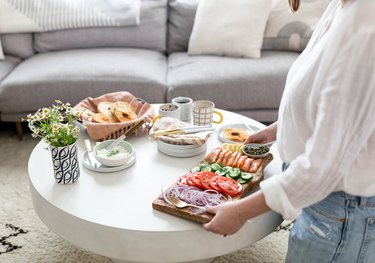 Here, presentation is everything. And the small touches are what make the difference.
"There's a mix of high and low in my kitchen and serving wear," says Madfis. "My cutlery is from Amazon, but then I have these really special pieces, like the knives, which are from a Paris flea market."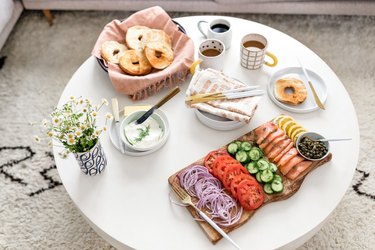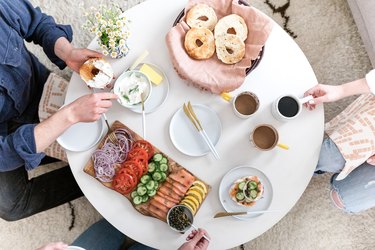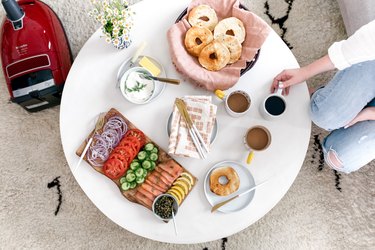 Here are more of Madfis' top shortcuts for effortless entertaining.
Keep your house 20 minutes away from being ready for company.
"It doesn't always happen with a baby now," Madfis says, but it's an adage she's had for years. Little tricks help. "I keep baskets everywhere, at least one in every room, and throw all [Arlo's] toys in there." And the normal detritus of daily life—be it cat hair, Cheerios or last night's mini kitchen disaster—is nothing a quick pass with the Miele can't solve. Plus, if you multitask and clean as you go, especially in the kitchen, it's all the easier to tidy up before guests arrive.
"I've been adding a bunch of storage," says Madfis. "I have a place for everything, I am not minimalist but I'm trying to be lately. Having a place for everything makes a difference."
Don't be afraid to cheat a little.
"You can Mrs. Doubtfire the whole dinner party, too," she laughs. One time she ordered an entire BBQ meal, put it on platters and focused her efforts on presentation. "It's totally accessible — and, with BBQ, probably better than anything I could do myself." Pre-made desserts or simple sides are also great ways to save time and focus on what matters.
For Madfis, who loves an affordable easy-drinking rose as much as the next woman, it's important to spend your money where it counts the most. Perfectly ripe heirloom tomatoes make the difference in her Friday night pasta, as do high-quality cuts of meat for other meals. "Depending on the recipe, if it's ingredient-driven, then it's worth it to splurge."
A typical table setting includes a cohesive yet layered mix of plates, cutlery, glasses that range from vintage to Ikea, cloth napkins and more. "I don't mind mixing textiles," she explains. "Even just having dinner every night I change plates and change the napkins to see different things."
Embrace your accessories.
Madfis likes to use vintage 70s winnowing baskets for bread and bagels, and a myriad of small bowls to hold dips and garnishes. "Adding tons of little dishes, even if it makes for more dishes after, adds more personality to the table," says Madfis.
For the table setting, it doesn't take much. "If I forget to get flowers, I'll chop off a branch from the back yard and put that in the vase, to add greenery. If you don't want greenery, add some candles." It can be as easy as a little eucalyptus or fresh herbs from the garden, if you're lucky enough to have such things on hand.
"Never forget the lemon wedges, it's so crucial in terms of getting the flavor right," she says. "I do that with everything I serve — any time I serve fish or meat, I have citrus."