In Asheville, North Carolina, Jim Samsel and Brooke Tate of Samsel Architects got a call to renovate a century-old apartment. But unlike other jobs, this one had a unique request: Could they create a home that felt like an art gallery? The client, Larry Turner, a dentist-turned-artist and art collector, sought a livable space that could also serve as a showcase for his beloved collection.
The apartment, originally built in 1905, had a traditional floor plan and was quite cramped — not at all ideal for exhibiting works of art. So the firm completely reconfigured the space to center around a spacious open living/kitchen/dining area. Skylights, stark white walls, and LED lighting were incorporated into the design to really channel that art space-like vibe. But to avoid feeling too clinical, Samsel played with strategic pops of color and made sure the building's historical details remained on display.
1 of 9
Exterior
Color is used tactfully throughout the century-old apartment to balance the interior's minimalist atmosphere. The firm worked with a local contractor to reconstruct the space, taking it from moody and cramped to bright and spacious.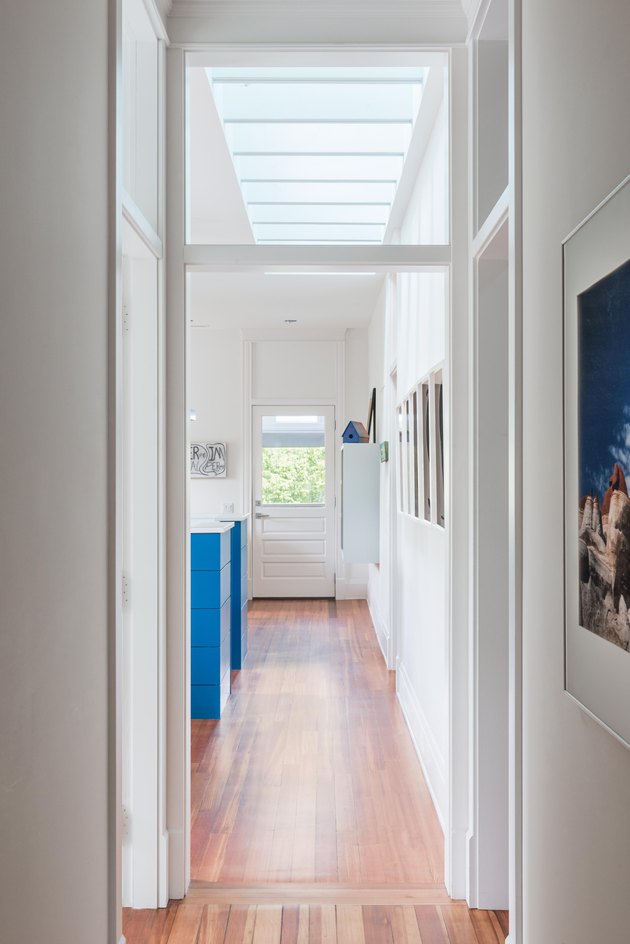 2 of 9
Hallway
One of the client's requests — a Velux skylight shaft — was built in order to bring in as much light as possible during the day. The skylight also provides natural illumination for the artist's extensive collection, which lines the white walls throughout the apartment.
3 of 9
Living Room
The homeowner, artist Larry Turner, relaxes in his living room. The built-in shelving, which would ordinarily house a television, instead showcases Turner's artwork.
4 of 9
Living Room
A Chuck Close painting hangs in the open living area. The refurbished heart-pine floor — original to the home — provides a natural contrast to the heavy use of color in the space.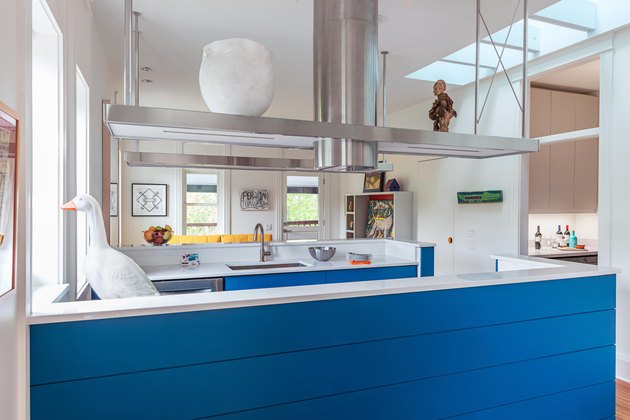 6 of 9
Hallway
The layout for apartment was "flipped" in order to make more space. "We reorganized the original, more formal apartment layout and enhanced the new plan with thoughtful natural and artificial lighting as well as an engaging color palette," Margaret Fullam, the firm's design assistant told Hunker. "The 'flipped' front-to-back layout created a modern-living floor plan that incorporates living, kitchen, and dining into one open space and connects all to a covered porch."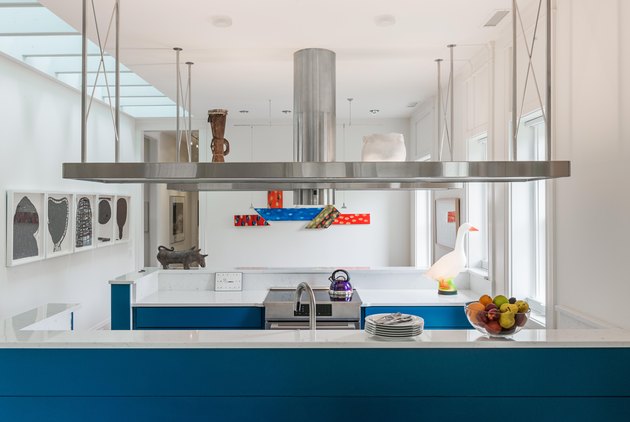 7 of 9
Kitchen Area
Quartz, a common mineral found in the Appalachian city, makes up the countertops, which are locally sourced. An ultra-modern Faber oven hood hangs over the counter.
8 of 9
Art Studio Space
One of the bedrooms was transformed into a painting studio for the dentist-turned-artist.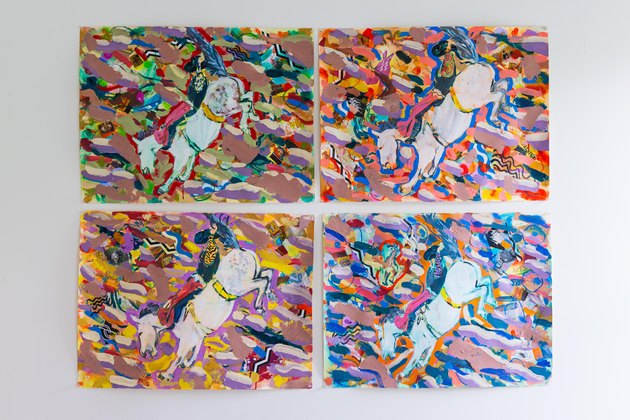 9 of 9
Art Studio Space
Bright primary colors, including the red front door and blue kitchen cabinets, provide touches of brightness in an otherwise neutral setting. Those same colors can be found in art throughout the home, with the white walls lending a counterpoise. The same dynamic found in curated galleries and art museums.
---
After interning at Dwell magazine in San Francisco, Kate began writing about arts, design and culture for other national publications. She is based in Los Angeles and San Francisco.
View Work