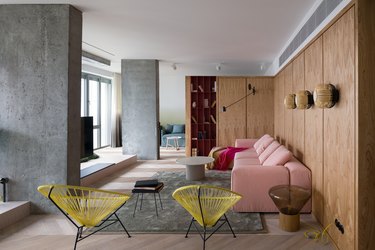 Out of all the places in the world we'd like to buy dream homes, Kiev, Ukraine isn't one we'd automatically jump to. But this apartment certainly ticks a lot of boxes on the dream house wish list: Indoor garden (why not?), a colorful interior (hello, Instagram opportunities), and a yoga room (namaste, friendos).
All of this came to life thanks to Ukraine-based design firm Olha Wood Interiors, which was charged with overhauling an apartment in one of the capitol's high-rises. In a city that experiences a six-month cloudy season and brutal winters, the space is engineered to maximize light and cheerfulness. Olha Wood made thoughtful use of wood and concrete to give the flat intention and definition, while gratifying hues like millennial pink, sage, and non-offensive yellows create a color conversation that winds its way through the space. And of course, the long interior garden, filled with bright green Rhipsalis, and a wall of windows makes the home the type of place we'd happily move into to combat SAD.
---
After interning at Dwell magazine in San Francisco, Kate began writing about arts, design and culture for other national publications. She is based in Los Angeles and San Francisco.