A bachelor pad generally brings to mind bulky furniture (if there is any actual furniture to begin with), giant televisions, and walls decorated with sports memorabilia. But fortunately for Matteo Colombo and Andrea Serboli of Colombo and Serboli Architecture (CaSA), their client, while a bachelor, had loftier ambitions for his 785-square-foot apartment in Barcelona's Sant Antoni area. CaSA's task: creating a space to reflect the client's interests in sports, cycling, and design.
The team's first step was to overhaul the layout. Once the home was opened up, the team installed a bold, black kitchen to contrast with the pale living and dining areas. "The aim was to create a very masculine yet sophisticated home, using a neutral palette and focusing on different textures," said the architects. From the built-in bike rack to the stack of books that serve as a nightstand, the home is full of details that give it a relaxed but polished vibe — just right for a single guy with an eye for design.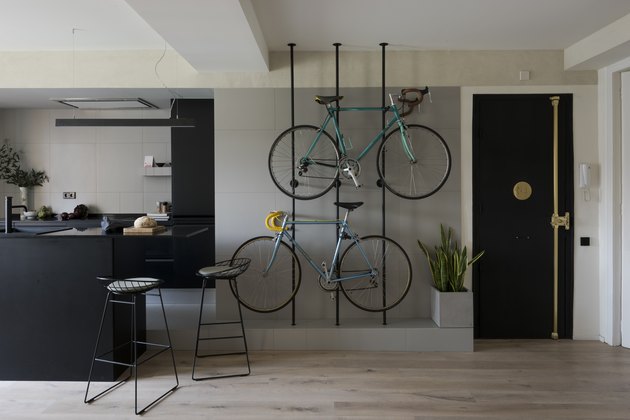 1 of 9
Entryway
Using metal tubes, the architects created a built-in bicycle rack by the front door. The wall is tiled, so any dirt or dust brought in by the bikes can easily be cleaned.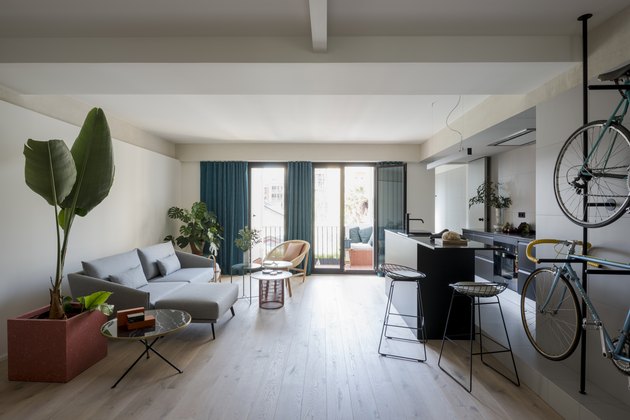 2 of 9
Living Area
The apartment was highly partitioned before CaSA created the new open floor plan. They added plenty of potted plants to bring life to the living area.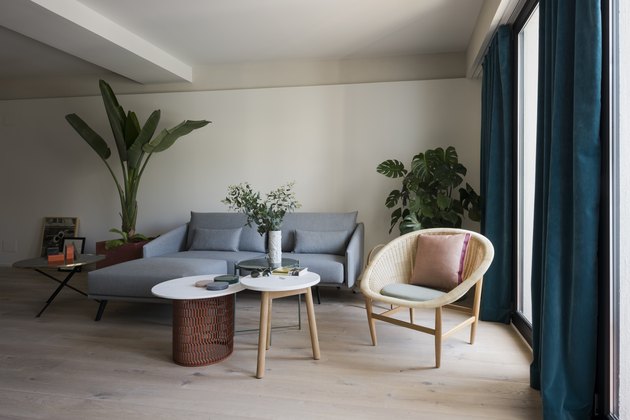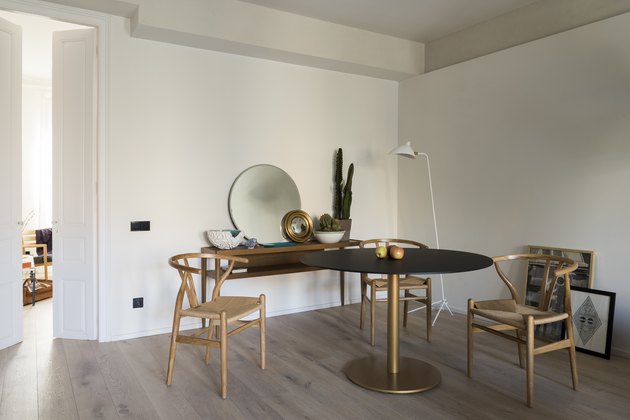 4 of 9
Dining Area
Classic Wegner Wishbone chairs surround a custom dining table. A console table showcases a mix of mirrors, plants, and ceramics, while art set on the floor, is an intentional decision.
5 of 9
Kitchen
A black kitchen makes a bold statement in a home that is primarily neutral. Stools by Pastoe and a light fixture by Onok Lighting fit with the dark theme of the space.
7 of 9
Bedroom
The period doors to the bedrooms were restored. Across from the bed, a custom marble table displays a cheeky Ettore Sottsass vase, a painting by Sandro Bedini, and a Cesta light.
8 of 9
Bathroom
The former kitchen was converted into the bathroom. The firm used black accents throughout the gray-tiled space, including the shower and sink fittings and the window and shower wall frames.
9 of 9
Terrace
A space that previously housed a washing machine was turned to a seat on the sunny terrace.
---
Elizabeth Stamp is a freelance writer in Los Angeles. Her work has appeared in Architectural Digest, Elle Decor, and CNN Style.
View Work