Whether you're designing a new home or remodeling a current one, most likely you'll want a bathroom that's efficient, cost-effective, and stylish. Definitely consider a Jack and Jill bathroom!
The term Jack and Jill bathroom typically refers to one that is situated between two bedrooms and is accessed through doors within each bedroom. Some bathrooms include an additional door to a hallway, providing access to the entire household. Doors that lock from the inside and outside maintain privacy for everyone.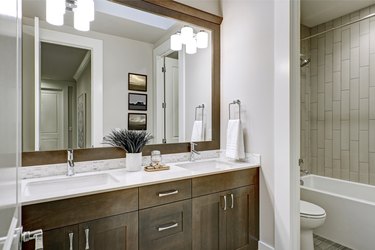 Although this layout most commonly places the bathroom between bedrooms for siblings, thus the label Jack and Jill, it's especially effective when one bedroom serves as either a guest room or home office, so the space is easily shared.
Benefits of a Jack and Jill Bathroom
The most significant benefits of a shared, connected bathroom are cost and space efficiency. Since plumbing a home is one of the top four largest expenses of home building, it makes sense to maximize the space to minimize the costs of labor and materials. When people can share facilities, an additional bathroom is unnecessary.
Most Jack and Jill bathrooms include two sinks to simultaneously accommodate more than one person during grooming, such as brushing teeth and combing hair. However, if one or both bedrooms are used only occasionally for guests, one sink might be sufficient.
Another benefit of the Jack and Jill design is the opportunity to teach children cooperation and patience. Their future roommates will appreciate living with someone who respects other people's timetables and habits.
Drawbacks of a Jack and Jill Bathroom
The benefit of children learning cooperation means someone will be responsible to teach cooperation. And sometimes children learn that lesson with painfull slowness, requiring periodic reminders.
Additionally, if a bathroom can only be accessed from the adjoining bedrooms, the limitation can be frustrating. For example, it might be inconvenient for a parent or someone else to clean the bathroom and stock it with supplies while the bedrooms are occupied by older children who value their privacy. Obviously, a bathroom that can also be accessed from a hallway eliminates that problem.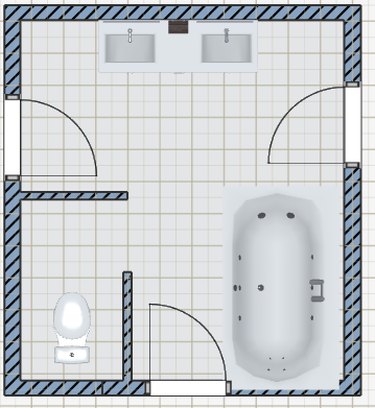 A minor inconvenience of a Jack and Jill bathroom is locking and unlocking all the doors from the inside. Typically, family members quickly become accustomed to the routine; however, a guest may forget to unlock the doors after use and inadvertently keep others from using the facilities.
Design and Layout Options
The Jack and Jill bathroom layout is flexible, so consider available space, as well as current and future household needs, to create the best plan for your home. Consider options such as these:
A complete bathroom (one or two sinks, toilet, and shower or bathtub) situated between two bedrooms
A toilet and bathtub shared between two bedrooms with sinks located in nooks outside each bathroom door
A complete bathroom with doors to two bedrooms and a hallway
A complete bathroom opening to one bedroom and a hallway
Once you've decided on a floor plan, ensure success by incorporating some of these design features:
Door locks: Doors that open into a bedroom must lock on both sides to ensure privacy both in the bedroom and bathroom.
Towel racks: Provide a convenient place for all the towels to dry.
Vanity mirror or mirrors: Either hang one large mirror or one smaller one above each sink.
Storage for grooming supplies: Creatively use space above the toilet and even above the shower or tub if there's room for shelves or hooks. Designate areas for each person.
Pocket doors: Use these where space is tight since they don't swing into the room.
Ensure privacy: some people choose doors with a translucent window or add transom windows that allow a small amount of light to shine through when the room is occupied.
Finally, choose decor that pleases everyone that shares the space. When possible, include them when selecting paint colors, a shower curtain, and rugs. Neutral/classic design choices will appeal to most people for a longer period of time.