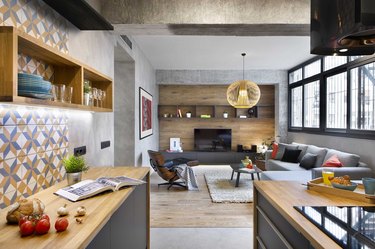 When a couple with two children purchased a former industrial space in a desirable Barcelona neighborhood, they had a plan to turn the property into multiple residences. But that's as far as their idea went — it was up to Egue y Seta to make it a reality.
The team developed a plan to convert the single large space into two single-bedroom flats and a studio, which they knew "needed to have the basics, of course, but also needed natural lighting and ventilation." Once those basics were outlined, including centralized kitchens, Eque y Seta also made sure that materials were "durable, practical, and easy to maintain."
As simple as this reality may seem, it didn't come easy. The firm ran into issues with the technical feasibility of water drainage, which altered the layout several times. And after changes in cabinetry, the look of the kitchens switched, too. But maybe that's the beauty of a simple idea: it can take on a life of its own. Now, the first unit's cozy 800 square feet is a showcase of ingenuity and style.