We may earn compensation through affiliate links in this story. Learn more about our affiliate and product review process
here
.
How does a creative empire get built? One passion project at a time. Or that's been the case for Tess Tran and Zach Schau, an L.A.-based couple whose home has become a reflection of — and inspiration for — their multiple creative partnerships.
"We're a perfect complement," Tran said. "I'm definitely more creative and he's more business-minded, so together we're always talking about new ideas."
It started with candles, a hobby Tran had pursued since childhood and still made time for despite her high-powered day job as creative director for accessories powerhouse Chan Luu. Formulating her own scents and hand-pouring the candles at home, she gave them out as gifts to friends. But Schau, a serial entrepreneur ( he co-founded a successful bicycle business in 2010 ), saw the potential for something more and built a website for the brand — The Milo House. Today, they sell to stores all over the country.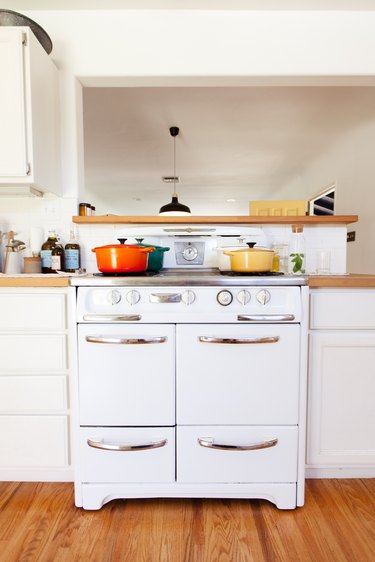 Their home in L.A.'s Highland Park neighborhood serves as headquarters for the business — and its aesthetic perfectly matches the clean, unfussy sensibility of the candles. "My style is very low-key," Tran said. "I'm all about good quality and a design that will last forever." A collection of textiles and gems from Tran's travels to Morocco, India, and Japan add warmth to the home's clean, modern lines— and drives her creativity at work and at home.
My style is very low-key. I'm all about good quality and a design that will last forever. -Tran
The couple loves entertaining — a passion that, like their business, is driven by Tran's vision. Their popular dinner parties are a regular hit with friends. "Tess is an incredible chef," Schau shared. For him, he confides, the recipe for a great night is simple: "I'm a musician, and we have probably twenty guitars and a piano in the living room," he said. "That, coupled with good food and friends, is all it takes for me."
Not that it's all relaxation. "We decided it was time to switch gears," Schau said about his most recent venture: This summer, Schau launched The Graces, a line of luxury organic cotton towels, with a friend. Still, the new endeavor embodies the couple's shared preference for simple, beautiful design and high-quality product.