Live oak (Querus virginiana) a large, sprawling shade tree found widely in the American Southeast, is a long-living shade tree often found along urban streets. Laurel oak (Quercus laurifolia) also native to the Southeast, is a slightly smaller shade tree with shorter longevity. These trees both like a moist climate.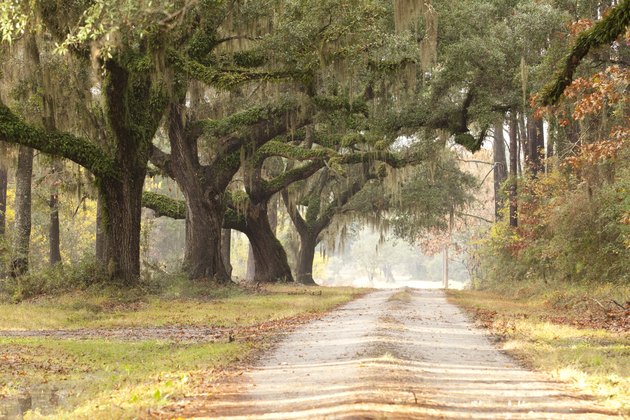 credit:
Dustin K. Ryan/iStock/Getty Images
Live oak grows from 60 to 80 feet tall, spreading from 60 to 120 feet wide in U.S. Department of Agriculture plant hardiness zones 7B through 10B. Laurel oak grows from 60 to 70 feet high with a canopy from 35 to 45 feet wide in USDA zones 6B through 10A.
Live oaks have a high tolerance for salt, making it good for coastal areas. Laurel oak does not tolerate salt. Live oaks grow well in urban areas suffering from drought, compacted soil, poor drainage and air pollution. Laurel oaks, native to the edges of swamps, rivers and streams, will tolerate wet soil, but do not tolerate urban conditions as well as live oaks.
As the live oak grows, its drooping branches require pruning to make way for people and vehicles. You'll need to prune a live oak annually for the first three years of planting, then once every five years until it's 30 years old. Branches with a narrow angle to the trunk need to be pruned to prevent them from splitting as they get older. Vehicles need 14 to 15 feet of clearance. Laurel oaks also have drooping branches that require pruning. To prevent their brittle wood from breaking, laurel oak branches should be pruned to keep their diameter to less than half of the width of the trunk. In dry conditions, laurel oaks grow more slowly, but with stronger wood that's less apt to break.
The roots of live oaks can interfere with mowing and lift sidewalks. The surface roots of laurel oaks typically pose no problem to sidewalks or building foundations. Although laurel oaks grow to 50 to 70 years, decay and wood rot begin hollowing their trunks and large branches in roughly 50 years. Live oaks resist this decay and can live for centuries.
Live and Laurel Oak Cultivars
You can typically find three cultivars of these two species in nurseries. They have the same USDA growing zones as other members of their respective species. Sand live oak (Quercus virginiana var geminata) grows better in sandy soil. 'Heritage' (Quercus virginiana 'Heritage') is the fastest growing live oak. 'Darlington' (Quercus Laurifolia 'Darlington) is marketed as a laurel oak with more compact growing habit, although its status as a true cultivar of the laurel oak is disputed.