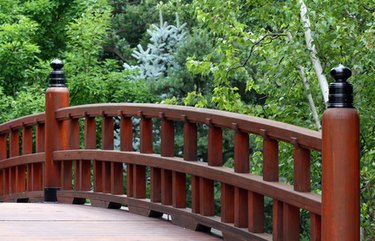 Mahogany is a pinkish or reddish-brown type of wood commonly used in furniture. Mahogany is typically very smooth in texture, with few knots or voids, making it a desirable type of wood aesthetically, and easy to work with when building furniture or musical instruments. Mahogany is considered a part of the Swietenia genus of trees: Swietenia mahagoni, Swietenia humilis and Swietenia macrophylla. Swietenia mahagoni is the rarest sub-type and is native to Florida, parts of Central America and the Carribbean. The latter two can both be found in South America.
Step 1
Press your fingernail into the wood to determine whether or not it's a soft or hardwood. If your fingernail leaves a mark, it is softwood. If not, it's a hardwood, which means it might be mahogany.
Step 2
Observe the corners of the wood in order to determine if the wood is solid or a veneer. If you can see a thin layer at the end of the edge, it's a veneer, not mahogany.
Step 3
Observe the pattern and grain. If the grain is fine and long, it might be mahogany, even if it might have a slight wave to it. Also, if you look close up and you see that there are many dark fine lines to the grain, that may be a good indication of mahogany, as well. These lines can be anywhere from 1/16 inch to an inch.
Step 4
Observe the color. Though mahogany is mostly known for being a darker reddish-brown when varnished or stained, mahogany that hasn't aged much can be more pink in color.
---
Anna Graizbord has been writing since 2000. She is a contributor to the blog Broke Ass Stuart and has written for other blogs such as Stylequest and Frank151. Graizbord graduated with a Bachelor of Arts in women's studies from California State University Long Beach, and studied Italian and art history at Studio Art Centers International in Florence, Italy.