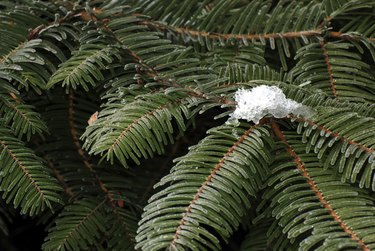 No newly planted tree grows fast enough to please a gardener, but the Douglas fir (Pseudotsuga menziesii) is no slow Joe. A mature Douglas fir is one of the tallest and most majestic trees on the planet, a true giant that shoots up to scrape the sky in a natural setting. In your backyard, it's likely to grow slower and end up considerably shorter.
King of the Pacific Forests
The mighty Douglas fir is native to the Pacific Northwest, growing in coastal forests from British Columbia to northern California. Its trunk is tall and ramrod straight, and the tree presents a slender, columnar or pyramidal shape. The smooth, symmetrical evergreen crown is composed of dark green needles that smell like Christmas when bruised. Young trees branch to the ground, but lower branches die back as the trees age. Cones hang from the branches and can approach 5 inches long.
Tall, Taller, Tallest
Douglas fir can grow to 200 or 300 feet in the wild, providing food and nesting areas for wildlife, including grouse, nuthatches, warblers, squirrels and chipmunks. A cultivated tree never achieves the same height or grandeur. In your yard, a Douglas fir will only grow 40 to 60 feet tall. Experts at Cal Poly estimate the growth rate of Douglas fir at 24 inches a year, but this also depends on its growing conditions.
Cool-Weather Care
The Douglas fir is a cool-weather tree, and it only thrives in U.S. Department of Agriculture plant hardiness zones 5 through 6. For fastest growth, the tree needs a sunny location and moist, acidic soil; it will do poorly and stay stunted if grown in poor, dry soil or windy areas. According to experts at Lady Bird Johnson Wildflower Center, these trees top out at only 15 feet in Big Bend National Park. For a slightly colder climate, try the Rocky Mountain Douglas fir (Pseudotsuga menziesii var. glauca), which is hardy in zones 4 through 6. However, expect your tree to be a little shorter and grow a little more slowly.
Douglas Fir Community
If you have the space to plant several Douglas firs in your backyard, you might consider adding some of the wonderful plants that typically grow beside and under the trees in the wild. Try hoary manzanita (Arctostaphylos canescens), a small shrub with gray-green branches that attract hummingbirds for nesting, or fragile sheathed sedge (Carex fracta), a beautiful perennial sedge. Both thrive in USDA zones 6 through 10 and, like the Douglas fir, do not require soil amendment or fertilizer. You'll want to mulch with shredded redwood or fir bark.