The Venus flytrap (Dionaea muscipula) is a plant that is native to the wetlands of North and South Carolina. It is a carnivorous plant that digests small insects and absorbs nutrients from gases in the air and from the soil. The Venus flytrap reproduces through pollination and also proliferates by forming bulbs. It has a life cycle that encompasses up to seven years. The best time for Venus flytraps to grow is during the summer, with a decreased growth rate in autumn and a dormancy period during winter.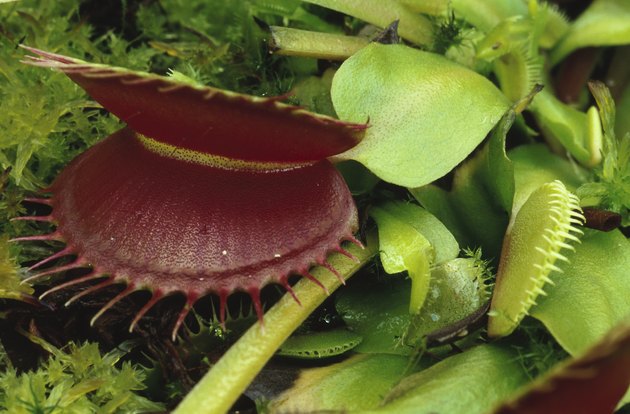 credit:
Hemera Technologies/Photos.com/Getty Images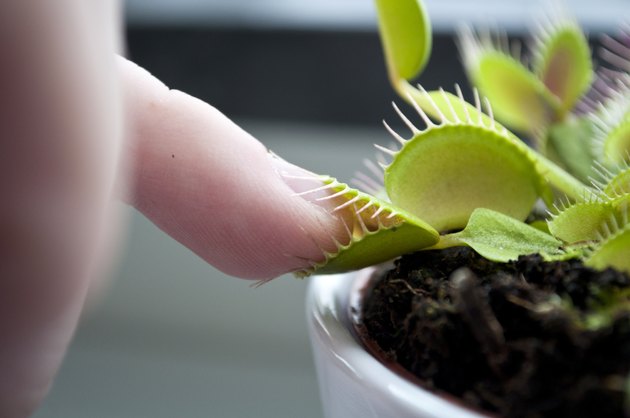 credit:
P_S_Miller/iStock/Getty Images
During the first year of a Venus flytrap's life, which usually begins in March, a tiny, black seed produces a sprout. The sprout will grow wide, short heart-shaped leaves and one- to two-millimeter trap leaves that are fully functional. The whole plant will usually not get any larger than the size of a penny during the first year, when it photosynthesizes food to start growing.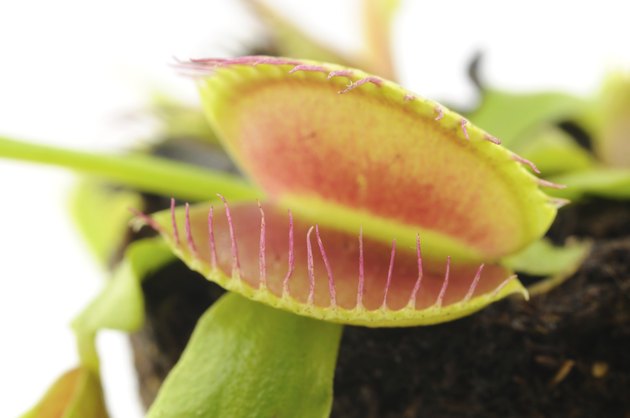 credit:
Norman Chan/iStock/Getty Images
In the second year, after the plant's first dormancy during winter, the Venus flytrap will grow up to an inch wide. The traps will grow up to 3/8 of an inch long, and the plant will grow leaves that are longer, thinner and more upright to raise the traps higher into the air to help them catch their prey. It is also during the second or third year that the plant should be repotted, if it is being cultivated in a pot.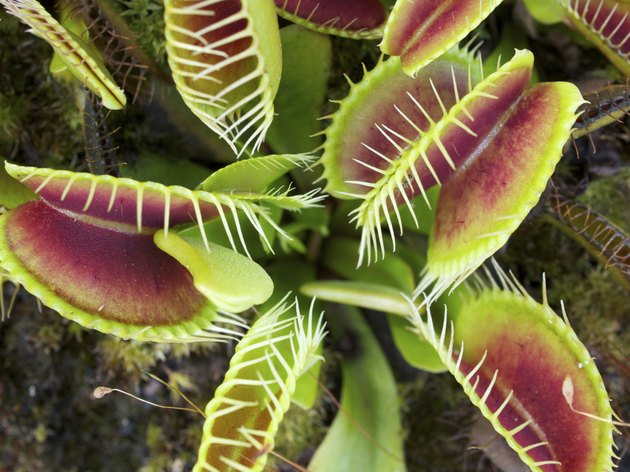 credit:
Luigi Masella/iStock/Getty Images
In the third year, in the spring, the Venus flytrap will grow much larger. The traps will be about half an inch in size and will be able to catch ground-dwelling and flying insects such as flies, spiders and bees. It will grow to be about two inches in height and may begin to grow a long, thick flower stalk from the center of the rosette that contain clusters of small, white flowers that usually bloom in May.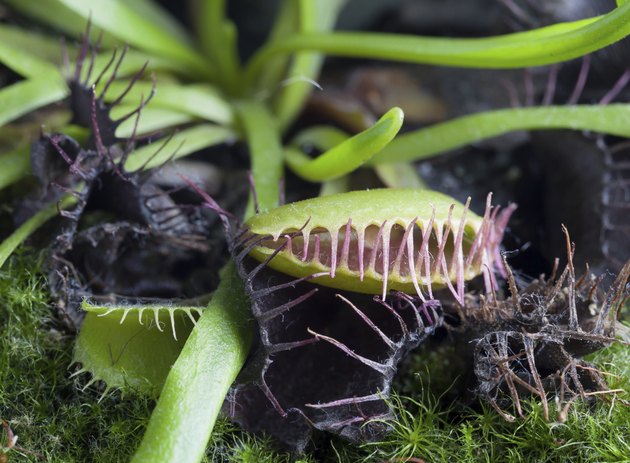 credit:
tdhster/iStock/Getty Images
The Venus Flytrap will reach maturity during the fourth to sixth year of its life. From this time onward, it will blossom every year. The flowers produce the seeds. It is also during this time that the plant will begin to split beneath the soil and produce new bulbs that can be repotted. A bulb can be planted in a one-plant pot, or two to three bulbs may be repotted in a larger pot.
credit:
Mark Goddard/iStock/Getty Images
The Venus flytrap will grow even larger during the seventh year of its life, and in later years if it survives. Sometimes, traps can grow over an inch long. It may also continue to split and divide, producing larger bulbs each time.