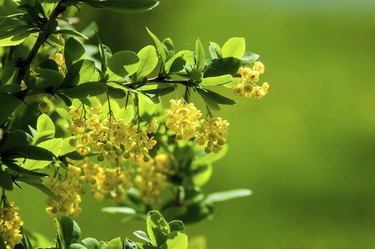 Barberry (Berberis spp.) bushes help light up autumn with their colorful, long-lasting foliage and brighten dreary winter days with scarlet berries. On the down side, some varieties of these non-native, aggressive growers can become invasive. Their numerous sharp thorns often make pruning a blood sport, so suit up with long sleeves and thick gloves -- and prune when your efforts are most effective.
Pruning Tips
When barberry overgrows its space, trim branches to keep them away from car finishes and moving children. Barberry doesn't shear well, so prune individual branches back into the bush to encourage new growth to arch gracefully. Evergreen wintergreen barberry (Berberis julianae), hardy in U.S. Department of Agriculture plant hardiness zones 6 through 9a, may be pruned from late winter through early spring. Prune deciduous Japanese barberry (Berberis thunbergii, USDA zones 4 through 8) and Mentor barberry (Berberis x mentorensi, USDA zones 5 through 8) in very early spring as their tiny flowers appear.
Reduce and Renew
Reduce branches on old shrubs in late winter. Tie nonproductive branches together and cut the old clump down to the ground with a long-handled lopper. On deciduous varieties, tie target branches before leaves drop. When shrubs grow too big to manage, tie up branches and prune all clumps down to 1 inch tall. Barberry will regrow 1 to 2 feet in the first year. Tying keeps the branches compact and easier to handle. Disinfect lopper blades with a 10 percent solution of rubbing alcohol and water or hand sanitizer between clumps.