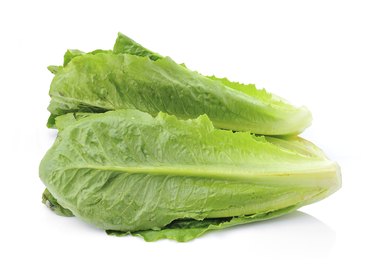 Romaine lettuce (Lactuca sativa), also called cos lettuce, makes a rather elegant statement in containers with its upright growth habit and narrow leaves. Well-suited for containers, romaine can grow alone, with other types of lettuce such as looseleaf, butterhead or crisphead, or in combination with colorful flowering plants. Grow a single plant in a 2-gallon pot or several plants in a 12-inch container. Numerous varieties exist; try combining cultivars with different leaf colors and plant heights.
Container Choices
Although a romaine lettuce can grow in containers as small as a 4-inch pot, growth is optimum in larger containers where the soil doesn't dry as fast and there's room for root growth. Begin with clean containers with multiple drainage holes. Wash used pots in hot, soapy water and rinse well. Soak pots for at least five minutes in a mixture of 1 part household bleach to 9 parts water; rinse well and let dry. Plastic pots are easier to keep clean than clay pots, weigh less and prevent the roots from drying out too quickly.
Light Requirements
Lettuce grows well in sun but can tolerate partial shade, although heads may not be as tightly furled. In hot summer areas, consider moving containers of romaine into partial shade as temperatures warm. Romaine is more tolerant of heat and slower to bolt - or form flower stalks - than other kinds of lettuce, but it will produce longer if protected from hottest exposures.
When to Grow
Romaine is basically a cool season annual plant. In cold winter areas, it grows best in spring and again in fall. In mild winter climates, grow it in fall, winter and spring. Sow the seeds directly in the container 1/4 inch deep and 1 inch apart. Keep the soil moist but not soggy. Thin seedlings after they germinate to the strongest seedlings spaced 6 to 8 inches apart, depending on the cultivar.
Soil and Water
Use a well-draining mix rich in organic material such as a quality soilless potting mix. Keep the soil evenly moist. For container lettuce, this might mean watering every day or every other day because soil in containers dries out more quickly than in garden beds. Romaine is sweeter-tasting than other lettuces, but lettuces can become bitter if the soil is allowed to dry.
Fertilizer Needs
Frequent, light fertilizing throughout the growing season helps develop rapid growth of full, crispy leaves, important if you're continually harvesting outer leaves or if you're using the cut-and-come-again method, where you cut the whole plant off above the soil line, leaving the base to sprout new small heads. Use a product such as 8-4-4 at the rate of 1 tablespoon per gallon of water. Every seven to 10 days, apply fertilizer to the container's soil until the solution comes out of the drainage holes.
Romaine Cultivars
Fit more plants in a container by choosing smaller-growing varieties such as compact, dark green "Monte Carlo" or dark red mini romaine "Truchas." For full-sized plants, consider disease-resistant, 10- to 12-inch-tall "Parris Island Cos." For bronzy-red leaves, similar sized heirloom "Cimarron" dates back to the 1700s. The cultivar "Freckles" is showy enough for ornamental use, with light green leaves randomly splashed with burgundy. Another heirloom variety, it's also known as "Flashy Troutback."