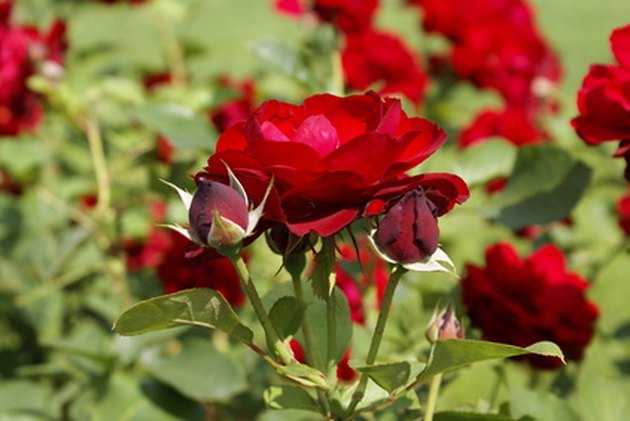 Pruning, fertilizing and winterizing are basic rose gardening chores that need to be followed to keep rose bushes healthy and thriving year after year. Shorter days and colder autumn temperatures are signs that rosarians look to when beginning to prepare their rose bushes for the freezing winter days ahead. With proper protection, however, roses can withstand extremely low subfreezing temperatures and still bloom hardily only a few months later.
Cold Hardiness
A rose bush's inherent hardiness contributes to its ability to withstand subfreezing temperatures. For example, old garden rose varieties can tolerate extremely cold winters, whereas more modern hybrid tea roses need considerable winter protection to survive the cold undamaged. Examples of hardy rose varieties include alba maxima, Maiden's Blush and Koenigen von Daenemark. Acclimation, midwinter hardiness and deacclimation also contribute to a rose's ability to survive freezing cold. Shorter days and decreasing temperatures trigger physiological and biochemical cues in rose bushes that prepare them for winter dormancy. Certain rose cultivars have maximum hardiness levels that allow them to withstand USDA zone 4a and 4b low temperatures of minus 20 to minus 30 degrees Fahrenheit.
Early Preparation
To begin to prepare roses for their winter dormancy, discontinue fertilizing in late summer or early fall, or more specifically, a minimum of one month before your local first-frost date. Continuing to fertilize rose bushes in autumn promotes new growth at a time when the objective is the opposite. Also refrain from deheading or cutting blooms, and allow the development of rose hips, which encourages the plant to harden for winter. Lastly, to reduce risk of disease the following year, remove all leaf debris from around the base of the bush.
Complete Winterization
Despite the fact that roses can freeze at temperatures below 32 F, only basic winter protection is needed in areas where subfreezing temperatures stay above 20 F. The reason for this is that proper rose winterization keeps the plants cold and frozen throughout winter. The severe damaging effects come not specifically from the cold but rather alternating freezing and thawing. Therefore, do not cover rose bushes until at least one hard frost occurs. Then remove all dropped leaves and cover the plant with a soil and compost mix approximately 10 to 12 inches deep. After this mound freezes, add further insulation, such as evergreen boughs or straw.
Other Considerations
In areas with severe winters, like Minnesota and Vermont, additional protection is needed for roses to survive. One popular winterization method uses plastic foam rose cones that fit over bushes. Add a couple ventilation holes, however, to keep air from heating up inside. Another winterization method to consider in Northern regions is the "Minnesota Tip," in which the bush is partially uprooted, pushed over into a trench and covered with soil. Healthy roses that are properly tended year-round have greater chance of surviving extremely low subfreezing temperatures than those suffering from pests or disease.
---
Rachel Delp has been writing and editing for academic and medical publications since 1992. She is based in the mountains of southern Spain and her work focuses on health care, travel and culinary subjects. Her articles can be found on various websites. Delp holds a Bachelor of Arts in Spanish with a minor in art from Moravian College.