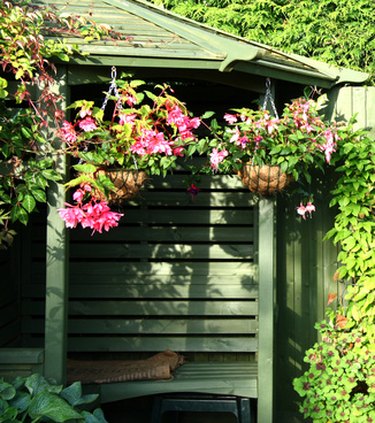 A hanging basket provides a colorful show of blooms during summer. Use perennial plants for your hanging basket for lasting value, since they start to grow again in spring. Choose different varieties of plants for volume and interest. Use trailing plants to hang over the side of the basket and add foliage plants as a green background to bright colored flowers. Water a hanging basket daily, and dead-head the flowers regularly to ensure a continuous display.
Dianthus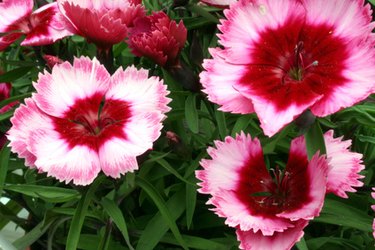 Normally known as carnations or pinks, the dianthus comes in over 300 varieties. A good border flower for cutting, several species are compact enough for planting in the center of a basket, providing a profusion of flowers during summer. Available in a range of bright colors, many of the blooms are scented.
Fuchsia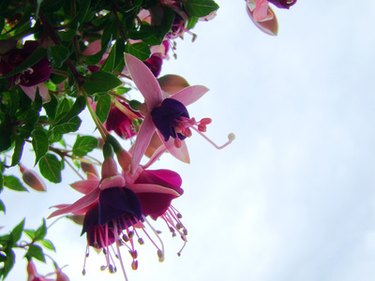 Available in a variety of species, a trailing fuchsia, such as the white and crimson "Cascade," makes an ideal, colorful plant to grow over the edge of a hanging basket. The different types of fuchsia produce pretty, ballerina-like flowers in shades of pink and white and they are easy to grow all summer.
Geranium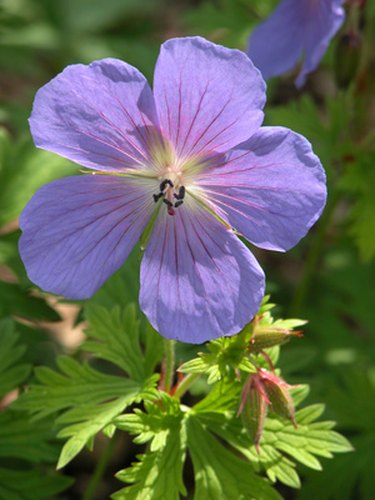 Normally used for ground cover in gardens, the ivy-leaved geranium is an excellent trailer that adds depth to a display. With evergreen leaves and delicate pink or lilac flowers, the geranium is a hardy perennial which blooms for most of the summer. Remove flowered stems and old leaves to encourage new growth.
Ivy (Hedera)
An evergreen, hardy plant, the ivy comes with a variety of leaf shapes and variegation. It is a perfect perennial for providing a background for more showy colors, as it trails gracefully from hanging baskets. Keep the leaves clipped to maintain its shape. Be careful to wear gloves as ivy sap may irritate the skin.
Petunia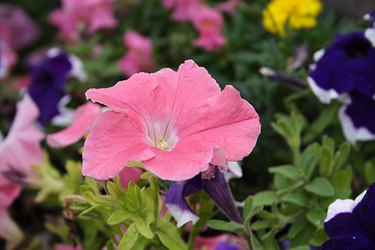 The petunia plant is available in a variety of species, from the large-flowered grandiflora to the bushier multiflora. Ranging from pink and red, to violet and white, there is a perennial petunia to suit all color schemes. The "Surfina Series'" of grandiflora petunia has a trailing habit which is ideal for hanging baskets. They are available only as young plants and flower well all season.
Viola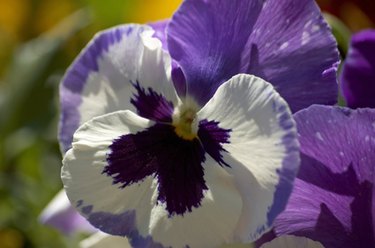 The evergreen viola is a fast growing plant that provides masses of pretty flowers during summer in shades of purple, white or lavender. Dead-head to prolong flowering for as long as possible. With rich, velvet colors, the viola x wittrockiana, commonly known as the pansy, brightens up the center of hanging baskets.