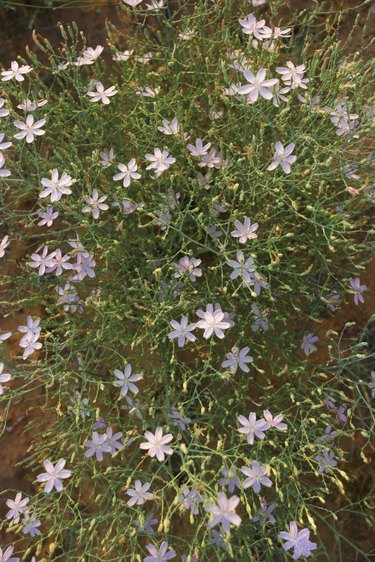 Wildflowers typically grow in the wild, but there are deviations that were planted and nurtured by flower lovers worldwide. Wildflowers usually are very showy, and flower lovers everywhere have been known to gather seeds to be planted in home gardens. Wildflowers are easy to care for and will grow in an indoor environment if they are given the proper amount of light and care.
Step 1
Start wildflower seeds in nursery trays filled three-quarters of the way with a good all-purpose potting mix.
Step 2
Spread one layer of seeds in each section. Gently rake the surrounding soil to cover the seeds.
Step 3
Spray the soil with a fine mist of water until it is wet to the touch. Gently drop water drops onto the soil using your fingers. Allow 5 to 6 drops of water to fall in each section. Keep the soil with the seeds moist, and do not allow them to completely dry out. Water the seeds every one to two days.
Step 4
Place the nursery trays in a bright sunny window that receives light for at least eight hours a day. Germination takes place as early as six days from planting.
Step 5
Continue watering the wildflowers, keeping them in full sunshine.
Step 6
Mix 1/4 tsp. liquid fertilizer with 1 gallon water. Feed the solution to wildflowers once a month instead of plain water.
Step 7
Cut the plants down to approximately 4 inches when the plants have stopped blooming and the seeds have dropped. Dispose of the cut plants.