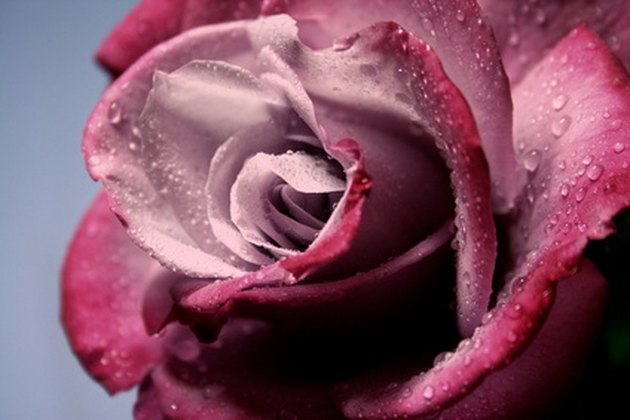 Roses are red, roses are blue...Actually, blue has not yet been achieved as a natural rose color. But breeders have managed to produce blooms in purple-to-lavender hues. People typically, however, think of such colors as red, pink and white as naturally occurring in rose plants. Whether you prefer single or double blooms, thorn-free, long-blooming or shrub roses, the available color selection is broad.
Red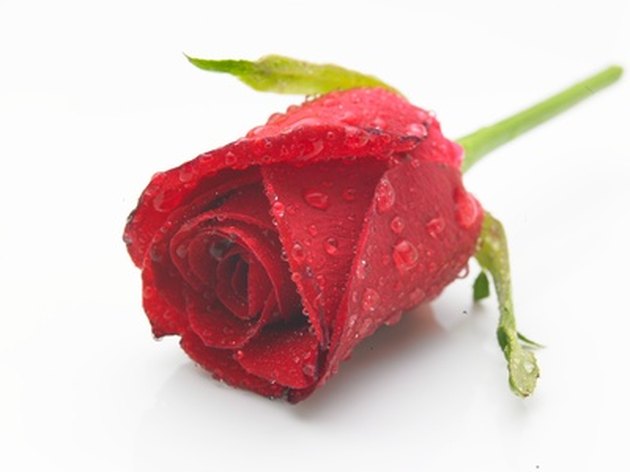 Red roses have been a symbol of love for centuries. They can also represent courage and/or respect. Among well-known red varieties are the scent-free Linda Campbell; the Rosa Redcoat, a shrub rose with semi-double blooms; the long-blooming David Austin; and the Betty Boop, a floribunda variety. In addition, white roses striped or edged in red express unity. Why? During England's 15th-century War of the Roses, white roses stood for the House of Lancaster while red roses symbolized the House of York.
White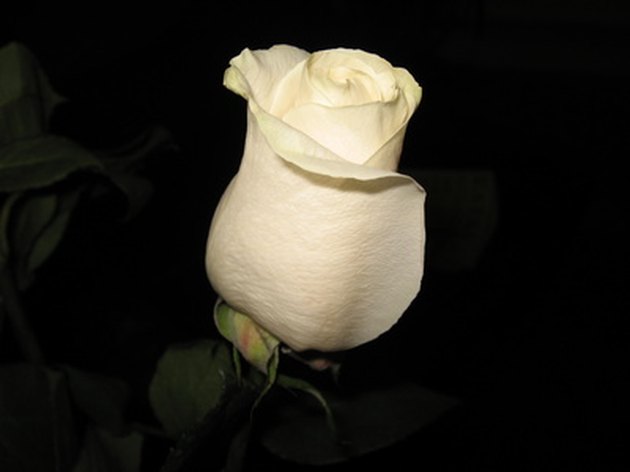 White roses symbolize innocence and purity, virginity and chastity. They can also indicate reverence. The white rose has taken on specific meanings in various cultures. One Christian legend has it that when the Virgin Mary placed her coat over a bush full of red roses, the blooms all turned white. Mary Magdalene's tears also turned red blossoms to white, according to a German legend. The Jewish tradition says that when the maiden Zillah rejected the advances of a man named Hamuel, his false accusations led to her being burned at the stake. From the ashes white roses grew, to confirm her innocence. Fair Bianca, Polar Star and Aime Vibert Antique are well-known white varieties.
Pink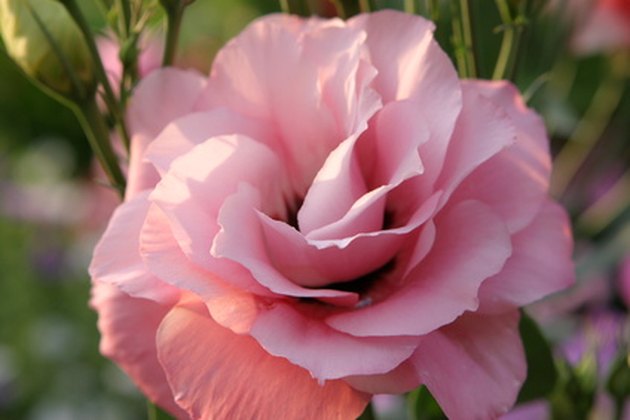 Roses come in a multitude of pink shades, from pale pink to salmon to cerise. Synonymous with sophistication, elegance and grace, they are offered to express platonic love. Romantic hopefuls have been known to proffer pink roses while fervently hoping to one day to give red ones instead. Pink rose varieties include Zephirine Drouhin, which displays double blossoms of cerise from spring into fall; the Frau Dagmar Hastrup, which evidence a strong clove-like scent; the Charles Albanel, which boasts double blooms of deep pink; and the vigorous Polar Ice whose foliage turns bright yellow in the fall.
Purple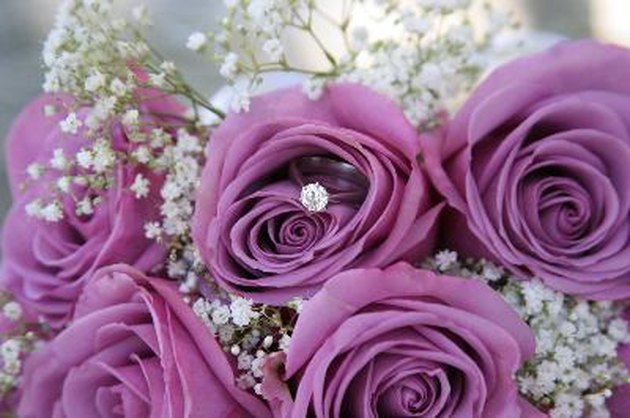 Hybridization is responsible for the large number of purple rose varieties on the market. Purple shades can range from deep purple to mauve to lavender. The color lavender in a rose bespeaks mystery, making a bouquet of the various shades an ideal gift to one you would like to know better. The various shades of purple rose complement each other well enough to gather into a single arrangement. You can also intermix pale pink or white varieties, interspersed with narrow strips of greenery. Purple Pavement roses display large purplish-red blooms and a powerful scent. The Cardinal de Richelieu and Burgundy Rose proffer blossoms of deep purple, while the Lavender Lassie is a hardy shrub rose.
---
D. Laverne O'Neal, an Ivy League graduate, published her first article in 1997. A former theater, dance and music critic for such publications as the "Oakland Tribune" and Gannett Newspapers, she started her Web-writing career during the dot-com heyday. O'Neal also translates and edits French and Spanish. Her strongest interests are the performing arts, design, food, health, personal finance and personal growth.