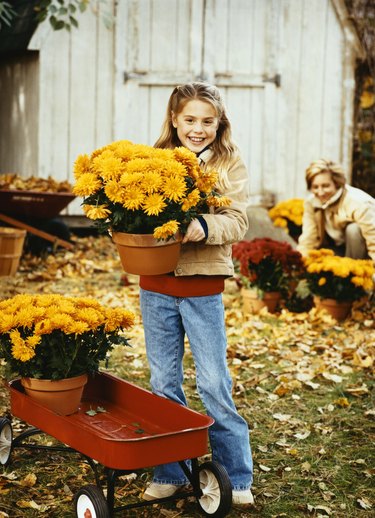 A backyard shed typically is used as a storage unit for items such as outdoor furniture, children's toys and lawn-care tools. The buildings are made in several styles and of several materials, and they even can be designed to match the style of the accompanying home. Because some sheds are built in one day, not all sheds have a foundation that was preconstructed for their installation. In some cases, a gravel or paver pad is laid down to level off the area for the building, but installation shouldn't stop there. Like any other building, a shed needs to be anchored to the ground.
Paver Installation on Sand
Pavers, in many cases, are simply installed over a bed of sand with nothing holding them to the ground. The sand is just barely below ground level in a dug-out area, and it also is used to fill small gaps between the pavers to keep them from shifting. Because nothing anchors the pavers to the ground, it is not a good idea to anchor a shed to the pavers.
Paver Installation on Concrete
On occasion, pavers are installed over concrete, such as an old patio slab or a newly formed foundation. In that case, the pavers are cemented to the concrete, or anchored in place. If a shed is installed on one of those kinds of surfaces, then it is OK to attach the shed to the pavers if enough room is available to do so. Anchoring the shed to the outer edge of a paver, for example, may cause the paver to crack or otherwise weaken.
Attachment to Ground
A purchased shed includes ground anchors that should be staked into the ground. Ties are connected to the building and stretched to the eye-hook on top of the anchors, where they are tied off. Generally, one anchor is at each corner of the shed. If the structure is large, however, it may have additional anchors along its sides. Anchors help a lightweight shed without footings to stay in place during high wind.
Attachment to Pavers
If your shed has a large, concrete-based paver pad or enough room for anchoring is inside the shed,, then you could attach the shed to the paver surface by using masonry bolts. Because pavers are thin and sometimes crack, however, it is more prudent to drill pilot holes through the pavers and into the concrete to connect the shed to the foundation. Even with the shed attached in that manner, your location's building codes may require the addition of a few ground anchors as well, and it isn't a bad idea to err on the side of caution by adding ground anchors even when they aren't required.