Things You'll Need
Primer

Paints

Paintbrush

Paint roller

Bucket

Soap

Scrub brush

Masonry cleaner

Pressure washer

Paint scraper

Stencils

Pencil

Paint sponges

Artist paintbrushes

Rags
Tip
Use elastmetric or acrylic paints for your mural. They are designed for outdoor use and are more durable than oil-based paints.
Warning
Always wear protective clothing and safety goggles when using the pressure washer. Paint chips and specks of dirt can fly into your eyes, causing damage.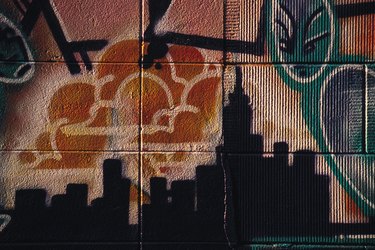 Cinder blocks are the foundations for outdoor rock walls. Builders often apply mortar and bricks to them to create a finished look. However, cinder block walls are often left as-is, leaving a drab, gray wall that seems unwelcoming. It makes sense to paint them to give your outdoor area a livelier, more vibrant feel. For this project, preparation and appropriate techniques will ensure that your cinder block wall mural lasts for years.
Prepare Your Wall
Step 1
Clean your wall in one of several ways, depending on the wall's existing condition. If it is new, you might not need to do much cleaning except for a good washing and dusting off of excess dirt. If it is old, it may need more intensive cleaning.
Step 2
Pressure wash older, dirty walls. The pressure washer should be commercial grade and have a strength of at least 2,500 psi (pounds per square inch). Use a 15-degree tip. This does not mean a bent tip, but rather a tip that spreads the spray at a 15-degree angle. Hold the tip 12 inches from the surface of the wall for best results. This method should remove most paint and built-up dirt and mold. On newer walls, use 1,500 to 2,000 psi. On older and dirtier walls, go up to 2,500 psi.
Step 3
Brush off any remaining paint chips and stubborn dirt until the wall is clean. If you have larger chunks of paint left, use the paint scraper and the scrub brush to remove any last vestiges.
Step 4
Prime the wall with a large brush or paint roller. If you have access to a paint sprayer, you will get a more even distribution of primer. Acrylic block fill primer is best, as it is designed specifically for cement cinder blocks. It helps plug the tiny holes in the blocks, making the wall smoother. Average primer use is 200 square feet per one can of primer. Allow to dry.
Step 5
Apply caulk if necessary. If your cinder block wall has a window or door, you may need to apply polyurethane or elastometric caulk, depending on your needs. Priming before applying the caulk helps it stick and reduces the possibility that the caulk will peel off.
Painting the Wall
Step 1
Draw your design on the wall in pencil. Keep more than one pencil handy in case the lead breaks in one. Use a stencil to copy intricate designs when needed. Don't worry about the pencil markings. Once you've painted over them, they will not be visible.
Step 2
Paint your design on the wall. Designate a number for each paint color. If you are not a professional artist or painter, it can be confusing to remember which color goes where, especially if your design is complex or requires multiple colors. An easy way to avoid confusion is to number each spot for each color, similar to the painting by numbers method. Write down on a piece of paper which color or color combinations represent each number. Use rags to wipe away mistakes and excess paint.
Step 3
Complete your wall mural with an application of clear finish. Clear finishes that are high-gloss, satin or semigloss give your mural a more professional look and are easier to clean.