Rocks can help to add personality to and enhance the look of your home landscape. Gathering rocks and stones from around your property provides a cost effective alternative to purchasing landscaping rocks. However, the various natural colors of the stones you find may not match well with the exterior of your home. If this is the case, you should consider changing the color of the landscape rocks to blend with the look of the outdoors around your home.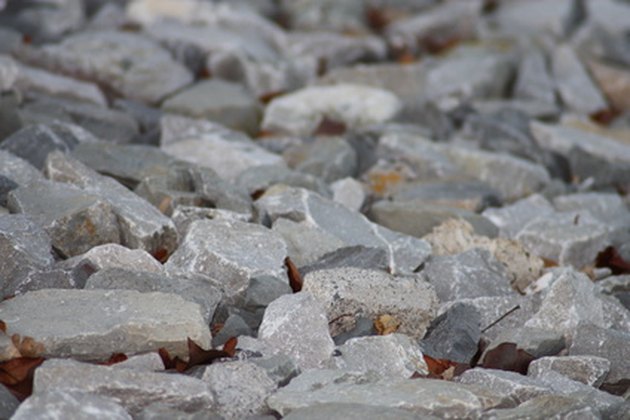 Step 1
Fill a bucket with water of any temperature. Dip each rock into the bucket and use your hands to brush off dirt and debris from the rocks. Set each rock aside to dry on a clean surface. For large sections of rock already in place, you may rinse the rocks using a garden hose to get off any dirt and debris from the surface.
Step 2
Paint all surfaces of the dried rocks with latex exterior paint in your color choices. If you want to mimic natural stone patterns, start by choosing a natural rock color latex paint and paint this base color onto the rock.
Step 3
Allow the first coat of paint to dry before you choose another rock color, which should be very close to the first color. Dip the very end of a stiff paint brush into the second paint color and then splatter and speckle the second paint color onto the rock, producing tiny specks of the second color. This will create a more natural-looking rock. For large sections of rocks, left in place, use a paint sprayer to apply the latex exterior paint. This only allows you to paint the top surfaces of the rocks and you will have to work carefully to avoid painting the ground and vegetation about the rocks.
Step 4
Paint the rocks with a rock spray paint instead of latex exterior paint. This method allows you to better mimic the textures and colors of natural landscape rocks. The paint contains flakes or foam and other substances that build up a rough surface and vary in color from the liquid parts of the spray paint. This makes your painted rocks look quite natural.