Wooden fence gates are attractive, durable and efficient. They also require a little upkeep over time, particularly when the gate begins to slump. A sagging gate can lead to bigger problems. A simple solution is to install a cable and turnbuckle system onto the wooden gate. This will bring it back to its former useful state in a small amount of time.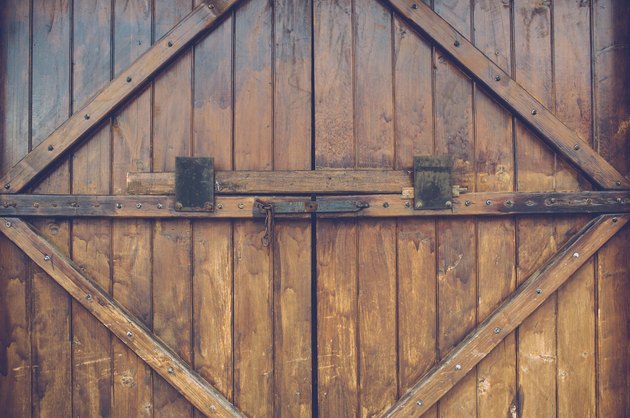 Anti-Sag Kits Explained
When the latch on a wooden gate fails to meet its housing on the other side, an anti-sag kit can pull it up to its former straight and functional splendor. An anti-sag kit's star is the turnbuckle and cable clamps. Two screw hooks or eye screws and a steel cable round out this relatively easy fix-it kit. They are inexpensive and can easily add years to your wooden fence if it is otherwise properly maintained, stained and kept in order. The kit is sufficient to fix the fence, but a bit of scrap lumber on hand can help if the gate leans a little too much for you to work without issues.
Turnbuckle Types
There are many anti-sag kits on the market and a few types of turnbuckles to consider. A double-jawed turnbuckle accepts an eye fitting that is attached to the end of the stay. Use a screwdriver to keep the upper jaw or eye of the turnbuckle from spinning while it is being worked on. Open Body turnbuckles are the most common. They need an adjustable wrench paired with a screwdriver to install. The cable will be the support system for the anchor that is the turnbuckle. Choose the type that works best for your gate.
How to Install Kits
Starting at the top of the hinge side of the gate, attach the metal corner brackets. Move to the bottom of the latch side using the screws in the kit or those that came with the gate if that can keep a firm hold. Unscrew the included turnbuckle in order to affix it to the top metal corner bracket before attaching the steel cable. The cable is joined with the turnbuckle and bottom corner bracket with the cable clamps that come with the kit set. The turnbuckle needs to be tightened to ensure the gate doesn't lose its grip on its firm wooden posts sunken into the ground. To tighten, you need to do the opposite of the golden rule that right is tight and left is loose.
---
Kimberley McGee is an award-winning journalist with 20+ years of experience writing for a variety of clients, including The New York Times, Las Vegas Review-Journal Home section and other national publications. As a professional writer she has researched, interviewed sources and written about home improvement, interior design and related business trends. She earned a B.A. in Journalism from the University of Nevada, Las Vegas. Her full bio and clips can be viewed at www.vegaswriter.com.
View Work