Things You'll Need
Tape measure

Chalk

2-by-2 inch wood furring strips

Hammer drill

Concrete fasteners

4 mm polyethylene sheeting

Hardiplank

Corrosion resistant siding nails

Hammer
Tip
Attach 1-inch foam insulation boards between the furring strips against the bricks with adhesive to increase the insulation for the room.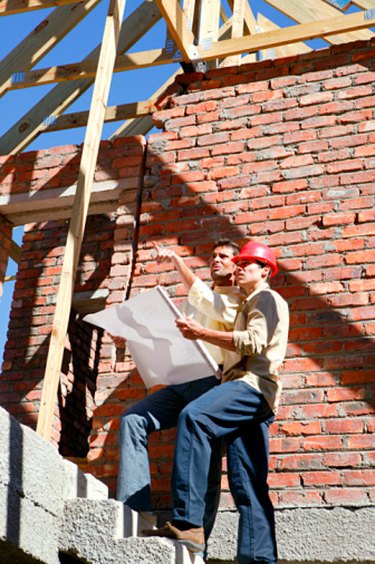 Hardiplank is a fiber cement siding made for exterior use to cover a structure in a long-lasting sheathing. Though generally used over wooden house sheathing, you can mount your Hardiplank siding over brick with only few preparatory steps. These extra steps will mean the installation takes a little longer, but once completed the planks mount quickly in place, instantly protecting your home from the elements for years to come.
Step 1
Mark the length of the brick wall with chalk every 24 inches. Use a tape measure to measure the distance between each needed mark.
Step 2
Attach a 2-by-2 inch wood furring strip to the walls, centered on each of the chalk marks. Hold the strip against the wall and use a carpenter's level to make certain the strip is plumb, running straight up the wall vertically. Use a hammer drill with a drill bit the same size as your concrete fasteners to place pilot holes through the furring strips and into the bricks every 12 inches. Remove the strip and clean out the holes with a vacuum containing hose attachment. Drive the concrete fasteners through the pilot holes using a standard drill until the fastener head is flush with the furring strip to hold the strips in place. Repeat along the length of the wall.
Step 3
Cover the furring strips with a vapor barrier attached to the boards using a power stapler.
Step 4
Place the Hardiplank boards against the furring strips. Nail the boards in place using siding nails along the furring strips. Install the planks from the base of the wall upwards so that the overlap of the next plank covers the nails used to place the previous plank.
---
Larry Simmons is a freelance writer and expert in the fusion of computer technology and business. He has a B.S. in economics, an M.S. in information systems, an M.S. in communications technology, as well as significant work towards an M.B.A. in finance. He's published several hundred articles with Demand Studios.