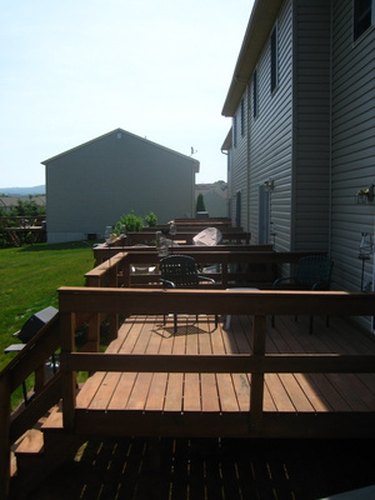 Simply deciding to put up a deck in your backyard or attached to your business doesn't mean that construction can start. In the state of South Carolina there are strict regulations that must be followed at all levels of construction. Decks must be built to certain specifications in order for them to be permitted to stand once the construction is complete.
General Regulations
Before any building can be done, the property owner must obtain permits allowing the deck to be built. As part of the approval process, any overhead electrical lines must be at least 10 feet above the planned height of the deck. South Carolina requires the use of pressure-treated #2 Southern Pine lumber or better. All hardware used in construction must be either hot-dip galvanized or stainless steel. Decks in South Carolina must hold a minimum of 50 pounds per square foot (psf) and the guards must hold 200-pound lateral loads. The load-bearing capacity of the soil needs to be a minimum of 1,500 psf and the compressive strength of any concrete used should be at least 2,500 pounds per square inch (psi). House cantilevers, bay windows, brick veneers and chimneys cannot be used as supports for a deck.
Post & Attachment Regulations
Posts used as supports—dug at least 12 feet into undisturbed soil—must be stabilized by either concrete or gravel. Galvanized bolts or lag screws are used to attach the deck to the house. The size of the deck joist determines the distance spaced between each bolt or screw (the number of lag screws is double the amount of bolts used). To ensure a tight fit, South Carolina regulations state that any siding or brick veneer be removed where the deck meets the outer wall and a non-aluminum flashing inserted between both structures.
Handrail & Guard Regulations
In South Carolina, the steps on a deck must be a minimum of 36 inches wide. Risers can be no more than 8¼ inches and consistent (with the allowed exception of the bottom riser) to within 3/8 of an inch. When there are more than 4 steps, South Carolina law requires that the deck have a handrail. These handrails need to be graspable and at a height of 30 to 38 inches above the nosing (front edge) of each step. Along the perimeter of a deck that is 30 inches or taller there should be a guard that stands 36 inches above the deck surface. The pickets of the guard must stand no more than 4 inches apart.