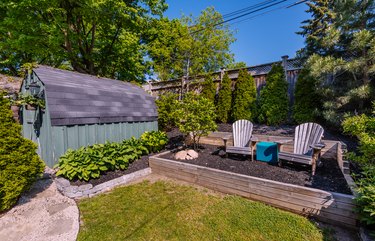 A triangular landscaping design in the backyard rewards the careful and the creative. In a small and odd-shaped space, you'll find success by paying close attention to individual details, because any imperfections will be magnified. Don't cram several ideas into the space. Instead, pick a design that suits your pyramid shaped yard, perfect it on paper and then breathe life into your plan to create your little slice of paradise.
Drawing attention to a focal point at the place farthest from the house makes a triangular space seem larger and well-planned. Lay an eye-catching flagstone or gravel walkway leading to the backyard's end or tip. Then create an arrowhead shape in flagstone at the top of the pathway, as if pointing to the tip.
The tip in your pyramid shaped yard is is the perfect spot for a garden table and striking statuary or a large fire pit surrounded by benches. Line the pathway with a flowering ground cover, and then space flowering plants, shrubbery and small trees in the open spaces on each side. Alternatively, keep the open spaces on each side of the walkway as mowed lawn. The tallest plants should be near the yard's edge and the shortest ones closer to the pathway.
Triangles Within the Triangle
Play on the backyard's shape by placing several triangular planting boxes within it. The planting boxes are perfect for vegetable and herb gardens. Fit three to five planting boxes in the space, and leave walkways between them.
Raising the planting boxes to different heights will make the backyard seem larger than it is. In lieu of one planting box, and if you have enough room, consider making a triangular pond fountain with coy fish and aquatic plants. Plastic pond liners, available from most landscaping and pond supply stores, simplify the pond-building process. Find plastic pond liners at Home Depot, Amazon and Walmart.
Vegetation-Filled Triangle
Filling the entire backyard with vegetation is an option if you have only a small sliver with which to work. Using perennials will minimize your yard maintenance work and allow the space to fill itself over the years.
Place tall flowering shrubbery and decorative grasses near the backyard's farthest end from the house. In the middle space, plant shorter bushes and flowering plants. In the part closest to the house, plant small flowering varieties and ground covers.
A showy flowering plant or bush in the two corners closest to the house will accentuate those corners and make the backyard appear more lively. Trees take up valuable growing space in a tiny triangular backyard, but if you choose to use them, fill the empty spaces beneath them with garden statuary.
Medium to large triangular backyards have enough room to make a separate space in each corner, giving the illusion of more space. Lay a pathway to each of the three corners, and section them off with mid-size shrubbery to make each corner private and secluded.
Pick three focuses you'd like in the backyard, and fit one into each corner. In one corner, for example, a swinging bench could be surrounded by a large tree and colorful flowering plants, and the site could be used as a reading nook.
Another corner could feature a spiraling herb garden so you always have fresh ingredients for cooking. In the final corner, you could line a fire pit and two chairs with flowering plants that bloom in the dark, such as night-blooming jasmine (​Cestrum nocturnum​), to create a moonlight garden escape. Night-blooming jasmine, also called night jessamine, is hardy in U.S. Department of Agriculture plant hardiness zones 8 through 11.
---
Serena Styles is a Colorado-based writer who specializes in health, fitness and food. Speaking three languages and working on a fourth, Styles is pursuing a Bachelor's in Linguistics and preparing to travel the world. When Styles isn't writing, she can be found hiking, cooking or working as a certified nutritionist.