Things You'll Need
Tape measure

Metal detector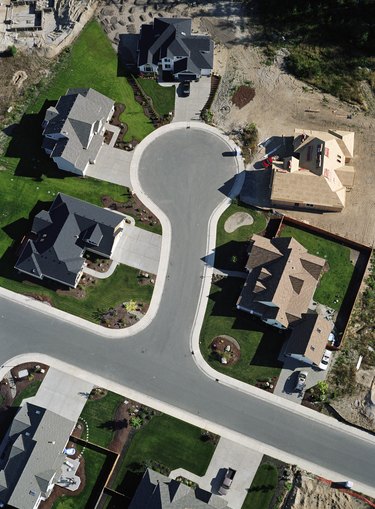 When considering a new landscaping project it can be difficult to pinpoint exactly where the property line is between you and your neighbor. The same can be true when a neighbor is putting up a fence that may encroach on your property. Since having actual surveyor come to your home can cost as much as a few thousand dollars, this option is usually cost prohibitive. There are a few readily available resources you can use to find this information out yourself for a small fraction of the cost of a surveyor's visit.
Step 1
Consult your home purchase records. A copy of the house location survey, a simple line map showing the location of the house and other structures in relation to property lines is usually included in mortgage closing documents.
Step 2
Go to your county's website. Look for the "Property/Land/GIS" system page. Go to the interactive mapping function that should be available for property information searches. You can usually input your address to call up a copy of your property map. It should show your house and any other structures, along with your property lines.
Step 3
Translate measurements on the map to your property. Measure the distance with a measuring tape to two different points on either end of the same property line shown on the map, using the sides of your house or other measured landmark on the map. Mark out these reference points with stakes. Run twine or plastic marking tape between them to find your property line.
Step 4
Go directly to your city or county property records department if your county does not offer an online geographic information system. Ask to see the plat map corresponding to your address. Request a copy, which usually costs only a few dollars or less.
Step 5
Buy, borrow or rent a metal detector and run it around where you suspect the corners of your property are. One or more of the original survey posts may still be in place. The tops of these metal posts are usually at ground level or just below.
Step 6
Ask your neighbors for any documentation they may have regarding common property lines.
Step 7
Consult a surveyor on the cost of a limited survey. They may be able to locate a single property line for a lesser price.