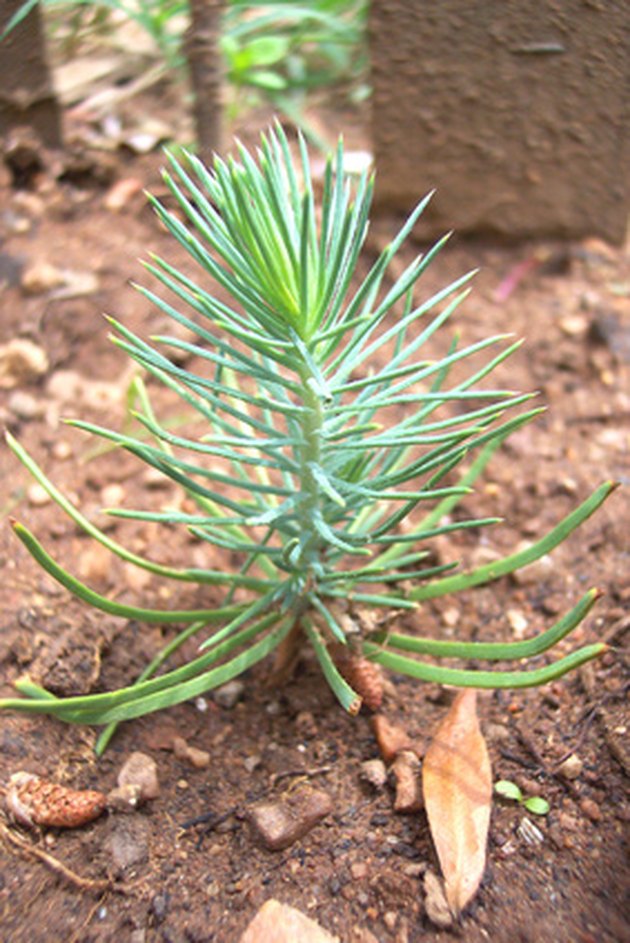 There is an area in southern Maine where vast open fields have been covered with pine tree seedlings. Of the thousands of seedlings, each about 2 feet tall, most are thriving, with only one here and there having turned the deep orange color that indicates a dead tree. These seedlings, planted in late summer of 2008, will one day form a broad pine forest on either side of the road that runs through them. They illustrate perfectly the outcome that is likely when pine trees are planted properly and at the right time.
Planting Zones
Most pine tree varieties are hardy if grown in areas from zones 3 to 8. These zones indicate relatively mild winters where the temperature doesn't fall much below minus 10 degrees F and doesn't go much higher than 90 degrees F. Well established pine trees are able to tolerate slightly colder or warmer temperatures than those extremes generally reported for those areas. This makes the late summer-early fall the best time to plant pine trees.
Planting Times
While it might seem to make sense to plant new pine trees in the spring, given the rain and the fact that the plants will have plenty of time to become established, this isn't the case in years of heavy spring rains followed by a sudden period of dry heat. Soil temperatures and moisture levels that have remained pretty constant throughout the year actually provide a better, more stable environment for nurturing new pine trees. Conifers, pine trees' family name, do better in the warmer soil of late summer, thereby making the months of August and September the ideal time to plant them.
Nursery Trees
For the best results, buy new pine tree seedlings either from a reputable garden center or a trusted mail-order seed company. The roots of the new nursery trees will be enclosed in a rich growing medium and wrapped in burlap or the plant will be growing in a pot. Their well-established root systems ensure that the trees are healthy and will do well once planted. These plants are processed during the dormant season, mainly early fall to early winter, so they do best if placed in the ground during a period of dormancy.
Mail-Order Trees
Most trees purchased either from a catalog or online are shipped with no dirt attached to their roots. It's important to put these seedlings into water right away and to keep their roots, the most important part of the saplings, moist until they are ready to be planted. The general rule is, the less stress to the plant, the better.
Wild Pines
With so many pine trees growing wild, it would seem to make sense to just borrow a few from Mother Nature. This is a little trickier than planting nursery-grown pine trees. The drawback in transplanting trees from the wild is that it is rarely possible to dig up the entire root system. But it can be done if you select small seedlings and dig up as much of the root as possible, keep them wet, replant them in the late summer or early fall, and hope for the best.
---
Rachel Lovejoy has been writing professionally since 1990 and currently writes a weekly column entitled "From the Urban Wilderness" for the Journal Tribune in Biddeford, Maine, as well as short novellas for Amazon Kindle. Lovejoy graduated from the University of Southern Maine in 1996 with a Bachelor of Arts in English.