The small lines that hold your perfectly positioned and well-chosen tile in place hold a lot of power when it comes to the look and style of a room. The importance of the grout that runs between the tile and joints of a wall or floor is not to be taken lightly. Dark grout can enhance the texture and color of tile or bring a certain ambiance to a room. Once you have made the decision to install or own dark-colored grout, it's important to know how to keep it clean and impervious to impurities that can creep into its porous surface.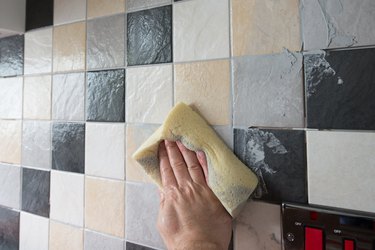 Advantages and Disadvantages of Dark Colored Grout
It conceals dirt on the surface and can have a dramatic effect. Black grout sets off the color of the tile and makes a bold statement. If you have time, pair the grout with tile samples to see what they look like at different times of the day in the space you plan to lay down the new tiling. Dark grout can fade much faster than lighter grout. Tile and grout cleaning should be done every three months or at least every year to keep it at its best moisture-resistant level.
Cleaning Shower Grout
Although a schedule of using sprays and squeegees daily to take down grime that can build up from hard water in the shower will keep your tile and grout in good shape, the grout will need more care throughout the year. A small brush dipped in a commercial chemical solution or a homemade cleaning solution can get into the porous areas of the grout and keep it at its best longer. There are many grout cleaners that get the job done without causing further damage to old grout while also keeping new grout at its pristine level, including Harpic tile cleaner, and natural abrasives and disinfectants, such as baking soda and vinegar. Chemical cleaners can make black grout sparkle quite quickly, while some household cleaners that have a powder base can gunk up those dramatically dark areas. Be sure to check a small space before going over a large area.
Cleaning Black Floor Grout
Grout that is holding the floor tiles nicely in place has a hefty job. It traps dirt and debris that slides off glazed or baked ceramic tiles and even natural stone tiles that can also absorb quite a bit of dirt from daily life. Floor tiles should be swept with a broom or cleaned with a dry mop daily or weekly. The beauty of black grout on the floor is that it can hide dirt build up. However, if left too long, the dirt can become a problem for the porous grout and lead to cracks or disparities in the integrity of the flooring.