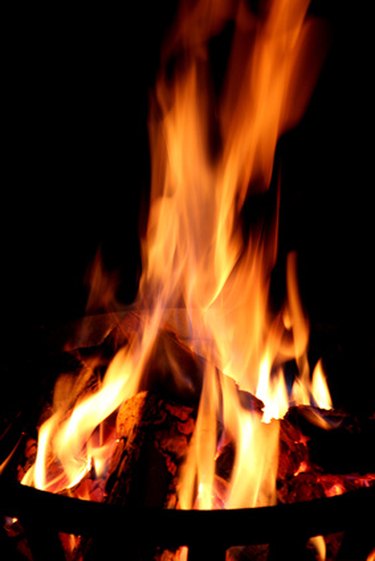 Whether you have natural or synthetic fiber carpets, they are both very sensitive to heat. Burn or scorch marks are a common problem with all types of carpet. A scorch mark is always very visible, with its different texture and its harsh discoloration. Even one scorch mark or a small burn can destroy the look of a carpet. Fortunately, there are things you can do to minimize the damage or even completely repair the damaged spot.
Step 1
Inspect the level of damage on your carpet and examine the scorch mark thoroughly. You will recognize the fibers that are completely lost and cannot be repaired by their dark color and melted look and feel. If your carpet is made from natural fibers, they will simply turn to fine dust upon burning. Synthetic fibers will, however, melt together and form lumps.
Step 2
Trim the burned fibers of the carpet by using a small precise pair of scissors or a sharp razor blade. Make sure to trim only the absolutely incurable carpet fibers. If you have a natural fiber carpet, it would be more efficient to use a metal fork to rub over the scorch mark. It will simultaneously get rid of the black burned dust and lift the surrounding fibers as well, making the mark less visible.
Step 3
Mix a solution made from five parts water and one part hydrogen peroxide.
Step 4
Apply a generous amount of the liquid solution onto the scorch mark to make it fade away. Be sure not to extend past the edges of the scorch mark too much. Use a small brush to apply the solution to make sure you are precise.
Step 5
Wait five to 10 minutes and then blot up the remaining liquid with a clean cloth. Leave it to dry so you can see the final result. If you are not satisfied, proceed with the next step.
Step 6
Scrub the scorched mark with steel wool or some sandpaper. Then brush and vacuum the area thoroughly.
Step 7
Cut a small top part of the carpet from an inconspicuous spot, making sure to cut only the fibers at the top, not the base of the carpet too. Use a sharp razor or a pair of scissors.
Step 8
Apply a small amount of rubber cement on the scorch mark and place the cut piece on the top. Put a heavy book on the top of the patched area and leave it for a few hours to settle.