Things You'll Need
2 cups dry cleaner such as Comet, Ajax or comparable product

Water

Brush or plastic knife

Mr. Clean Magic Eraser, Scotch-Brite Easy Eraser or comparable product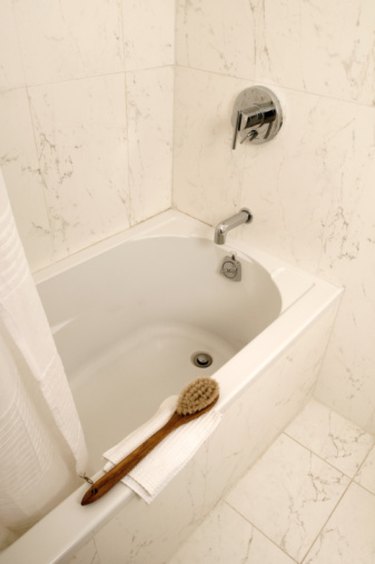 Bathtubs stains are hard to live with. After all, few people want to take a shower while their feet are making contact with mysterious stains. Even fewer people are willing to take a bath with a tub in such a condition, as that would call for their entire bodies making contact with such stains. Stains in the bathtub can occur from either trapped water not allowed to dry properly, which forms mildew, or from mineral deposits created by hard water. Regardless of how they got there, you don't have to live with dark stains in your bathtub indefinitely.
Step 1
Add water to a dry cleanser such as Comet or Ajax or a comparable item until you form a paste. Mix the cleanser and water with a plastic knife so that it becomes a paste. Spread the paste all over the inside of your tub so that you coat it evenly. Let it penetrate for at least 15 minutes.
Step 2
Moisten a Mr. Clean Magic Eraser, a Scotch-Brite Easy Eraser or a comparable product with water. Scrub the eraser all over the inside of the tub. The combination of the two cleaning products should thoroughly remove all stubborn dark stains.
Step 3
Rinse the tub thoroughly with cold water to flush out all the cleaning agents. Pull back the shower curtain and let the tub dry naturally.
---
Lane Cummings is originally from New York City. She attended the High School of Performing Arts in dance before receiving her Bachelor of Arts in literature and her Master of Arts in Russian literature at the University of Chicago. She has lived in St. Petersburg, Russia, where she lectured and studied Russian. She began writing professionally in 2004 for the "St. Petersburg Times."