Things You'll Need
Bowl or bucket

Vinegar or lemon juice

Salt

Detergent

Fabric bleach

Eye dropper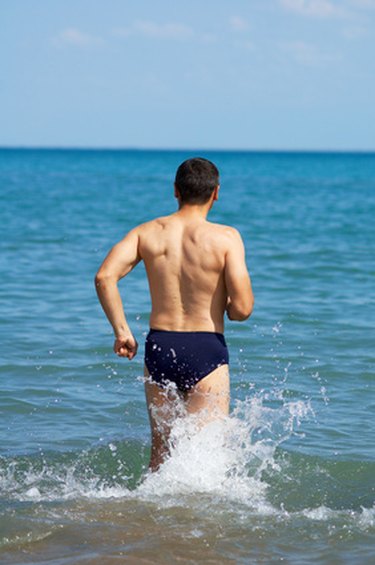 Mildew is a fungus that thrives in warm, damp atmospheres. Wet bathing suits left at the bottom of laundry baskets can, therefore, prove to be the perfect breeding ground. Left for too long, the mildew is not just smelly and unsightly, but it can also damage the fabric. Early intervention, however, should result in a clean, mold-free bathing suit that will serve you for a long time to come.
Step 1
Place your bathing suit into a bowl or bucket and soak in about 1 cup of vinegar and 1 tbsp. of salt. Mix together thoroughly and leave to soak for 15 minutes. Alternatively, you can use lemon juice. The acid in lemon or vinegar will kill the mildew.
Step 2
Dry your bathing suit in the sun and then wash with detergent in a normal cycle. Washing properly after treatment is important in order to get rid of salt crystals that will make wearing uncomfortable. The smell of vinegar also needs to be washed away.
Step 3
Wash using fabric bleach if the mildew persists. Ensure, however, that the garment can be bleached. Swimsuits tend to be made with quick-drying synthetic materials nowadays and bleach does not usually harm these. If you are unsure, treat each spot of mildew individually, using an eyedropper. After applying, leave for two minutes and rinse thoroughly, repeating if necessary. When finished, launder and dry as normal.