Warning
Rubber bands have sulfur and will make black marks on gold-plated flatware. Salt will also damage gold flatware. Treat your gold-plated flatware like sterling silver and keep it away from rubber bands and lemon detergents, salt, vinegar, long soakings and the dishwasher.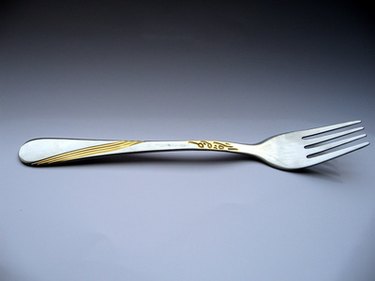 Gold silverware, also called gold flatware, comes in different compositions; the most common are brass, bronze and gold plate over stainless or nickel. Demitasse spoons and souvenir pieces are sometimes brass, and most bronze flatware is from Vietnam. The brass and bronze pieces are solid throughout and can be cleaned with polish made for the metal. Gold-plated stainless flatware is the most common of the gold silverware in flatware place settings, and popular patterns are available from several different makers in the United States as well as France and Italy. This gold flatware takes special handling, much like sterling flatware. It will last for years with proper care.
Step 1
Keep gold flatware out of the dishwasher. Martha Stewart lists it as one of the items not to wash in the dishwasher, and many authorities emphasize this as the most important element of keeping gold flatware attractive. The Society of American Silversmiths calls the dishwasher the "chamber of doom" for fine flatware. Do not get dishwasher detergent near gold flatware, as even the dry powder can cause dark spots.
Step 2
Wash gold flatware by hand in hot soapy water. Rinse in clear hot water and dry with a towel, as air-drying causes water spots. Do not leave gold-plated flatware to soak overnight, and do not let food dry on the surface, since acidic food can pit the finish. The gold plating is just a few microns thick on most flatware, and pitting to the base metal can occur quickly. Ricci Argentieri, an Italian maker of gold flatware, reports an average of 10 microns of gold plating on its silverware.
Step 3
Clean spotted or damaged gold flatware with a metal or gold cleaner like Regent's E-Z Shine to restore the shine, or use glass cook-top cleaner on a soft cloth. Cook-top cleaner has alcohol and detergents and will not scratch the surface. Always wash the gold flatwater in hot soapy water after using a cleaning product.
Step 4
Clean stubborn stains on gold flatware with cornstarch paste on a soft cloth. Do not use abrasive scrubbers or stiff brushes.
---
Linda Richard has been a legal writer and antiques appraiser for more than 25 years, and has been writing online for more than 12 years. Richard holds a bachelor's degree in English and business administration. She has operated a small business for more than 20 years. She and her husband enjoy remodeling old houses and are currently working on a 1970s home.