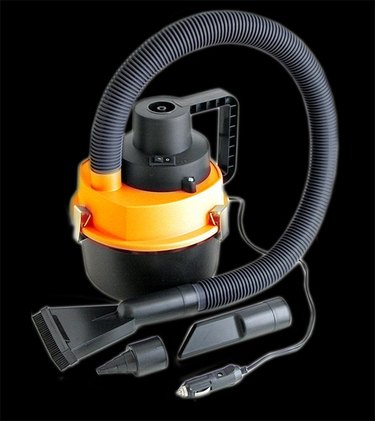 A wet-dry vac is a vacuum that picks up dry dirt and liquids from many types of surfaces, so it can clean up spills or cleaning solutions in your carpet. Carpets hold on to stains, solid soil, bacteria and mildew. Before you decide to clean your carpet with any liquid solution, you should be prepared to spend a lot of time drying it. Wet-dry vacuums can perform this step in cleaning your carpet, but the work will not be easy.
How To Get Your Carpet Ready
Remove furniture from your room so it won't get damp. Damp furniture will lead to mold. Vacuum your dry carpet first. You can use the wet-dry vac or your usual household vacuum. Vacuum all of the solid soil from your carpet.
If you have stains in your carpeting, apply a carpet stain remover and wait the appropriate amount of time, as indicated on the packaging.
Prepare a solution of carpet cleaner and water. The directions for mixing the cleaner with water will be listed on the bottle of cleaner. Wet-dry vacs only pick up wet solutions; they do not disperse them evenly over your carpet. You will need to do this by hand. I recommend using an ordinary watering can. Once you have the solution down, make sure it has spread evenly. To do this, use a stiff-bristled push broom or a deck brush. Brush the entire carpeted area.
Using Your Wet-Dry Vac
The filter you will need for wet pick-up with your wet-dry vac depends on the brand and model you are using, so check the owner's manual for the exact filter model.
When sucking up the cleaning solution from your carpet, do one section at a time. Using a floor attachment, press firmly to be sure you are removing moisture from the deepest area within the carpet. Drag slowly backward, and overlap your last pass with the next one.
Wait until each section is dried completely before moving on. Some areas may take more time than others.