Things You'll Need
Absorbent cloth

Sponge

Fingernail polish remover

Paper towels

Scrub pad

Liquid detergent
Tip
Clean the surface with bleach if any stain residue remains.
Warning
Exercise care when using fingernail polish remover because it is very flammable.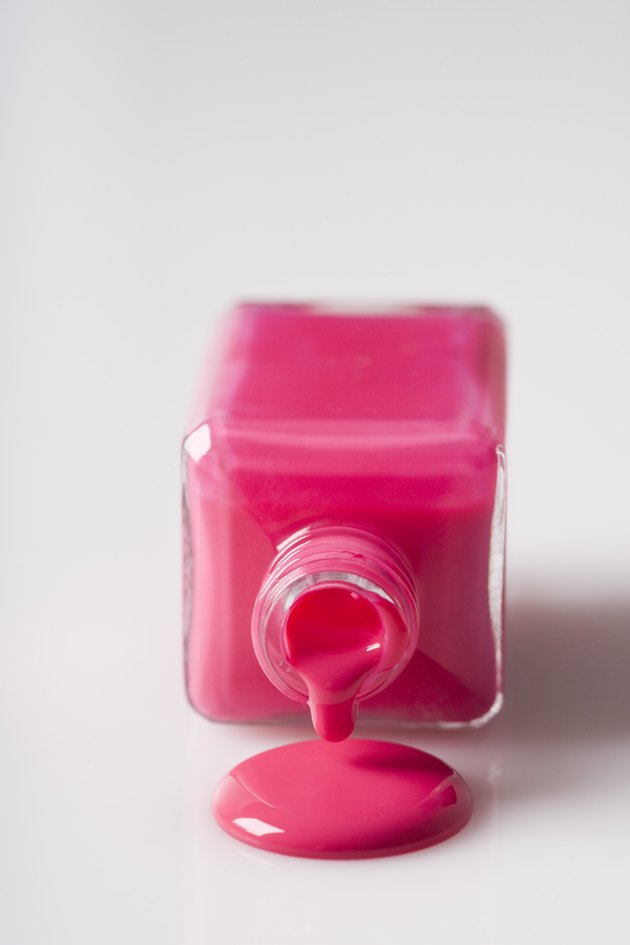 The bathroom sink is a natural landing area for fingernail polish, creating colorful and noticeable stains. Acetone is a chemical used in fingernail polish remover and is effective in removing fingernail polish stains on porcelain, tile, carpets and fabrics. Acetone is also available independently from hardware stores. Exercise care when using fingernail polish remover to avoid spreading the stain. The cleaning process requires only a small amount of time, effort and materials.
Step 1
Place an absorbent cloth around the stain to absorb excess fingernail polish and remover from spreading during the cleaning process.
Step 2
Moisten a sponge with fingernail polish remover and blot at the stain working from the outside toward the middle.
Step 3
Blot the moistened stain with paper towels to absorb the excess cleaner and polish.
Step 4
Repeat the sponging process until the stain is gone.
Step 5
Scrub the previously stained spot with a scrub pad and liquid detergent to remove any fingernail polish residue.
---
Freelance writing since 2009, Tom Ross has over 30 years of corporate management and hands-on experience in the supermarket industry. Ross was featured on the cover of "Instore Buyer" magazine and his articles have appeared on various websites.